Elisha Kasinskas
|
March 25, 2020
One strategy for achieving financial stability and greater in-plant profitability is by replacing manual workflows with workflow automation. An in-plant with better margins is in a better position to buy from you.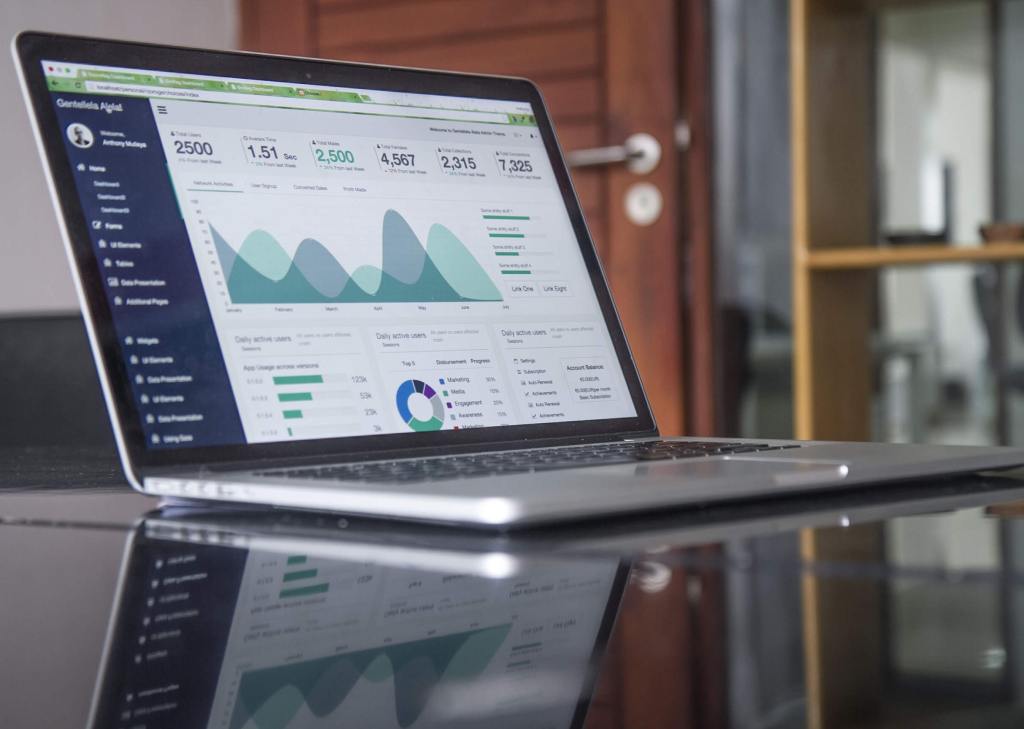 Workflow is a series of sequential steps performed in a specific order to complete a task or job. Software such as RSA's Web to print solution, WebCRD and our output management solution QDirect automate those sequential manual steps driving greater efficiencies in the in-plant. For example, prepress tasks where batches of files are opened and color corrected can be done more cost-effectively through automation.
A 2019 InfoTrends study (North American Production Software Outlook) found that 57% of commercial printers and 50% of corporate in-plants identified processing large volumes of small print jobs an issue, indicating a need for more efficient and cost-effective ways for producing these jobs.
And where there's a need, there's an opportunity.
Before pitching an in-plant on a workflow automation solution, the in-plant must understand the current costs of manually processing jobs. By staying on top of costs, the in-plant can identify areas where it can reduce costs with workflow automation and determine the ROI of the workflow solution.
Seven Ways Workflow Software Cuts Costs and Increases Customer Sales
Let's examine the seven benefits of workflow automation for an in-plant print center.
Time is money –

 

When selling workflow automation software consider the amount of time it will save an in-plant and the costs associated with that time savings. When workflow software is implemented, team members can focus on high-priority tasks rather than routine jobs that require repeated manual steps. For example, a task such as data entry can be more accurately and efficiently handled by an automated program.
Greater productivity –

 

When a team member focuses on tasks that generate more revenue for the in-plant in the same amount of time it took them to perform manual tasks, productivity escalates. Greater productivity leads to increased revenues.
Eliminate redundancies

 

– By automating workflow, the in-plant can eliminate redundant processes and jobs, again reducing costs.
Better decision-making through actionable data

 

– Automating workflow provides a wealth of information that one might not have acquired and acted upon if tasks were performed manually. WebCRD's production workflow includes a monitoring capability that allows administrators to monitor the status of a job, identify bottlenecks, and better allocate resources. This, along with reporting and analytics, can help the in-plant avoid unnecessary costs and focus on critical areas and tasks as well as process improvement. The availability of more data and more accurate data also enable better decision making, which can lead to further cost savings.  
Increased print volumes and cost control

 

– Workflow software has been shown to drive more volume to the print center via web submission. It also provides a hard copy workflow on-ramp to the print center to control MFP copy volume and costs.
Fewer errors and miscommunications

 

– Automating manual processes reduces and often eliminates tasks and processes that were once prone to error when performed manually. Because of this, jobs are more likely to be completed on time and accurately the first time. Our automated workflow solutions reduce human error and miscommunication because data is handled the same way every time. One WebCRD customer saved $50,000 switching from a manual process to Web to print and expects to save another $44,000 per year in labor costs by automating their workflow.
Increased revenue –

 

While reducing costs is a significant selling point for workflow automation software, don't overlook its potential to grow revenues. With a manual system, team members are limited as to how many jobs they can process manually in a given time frame. This can impact sales if the in-plant can't keep up with its existing workload. Automation drives efficiency, allowing more tasks to be completed every day, which can lead to increased sales.
Ready, Set, Go
Workflow automation has nowhere to go but up in the in-plant. Consider that the average percentage of print volume produced in a 100% automated workflow is only 9%, according to the 2019 InfoTrends study. That percentage is expected to rise to 20% by 2021. Similarly, 33% of print volume is currently processed via Web to print with that figure predicted to hit 46% in 2021.
With all the advantages, including reduced costs that workflow automation can bring to an in-plant, work with your in-plant customers and prospects to help them capitalize on these trends and benefits to reduce costs and grow their revenues.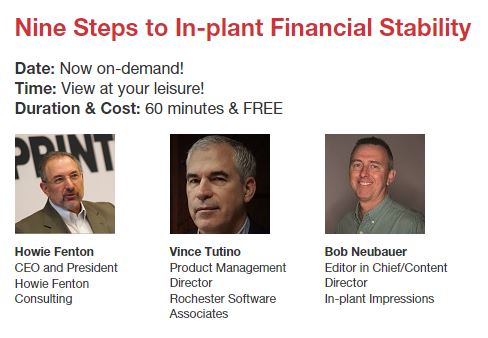 Learn More About How Workflow Automation Improves Finances- Also Get the Free Guide
Watch the webinar replay of "Nine Steps to In-Plant Financial Stability" and download the free companion guide.