Elisha Kasinskas
|
February 02, 2018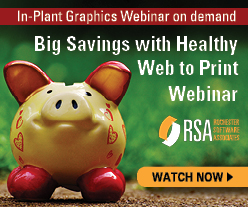 As part of a top-ranked ranked Healthcare Supply Chain organization, Intermountain Healthcare's Design and Print Center (DPC) adheres to high standards. While the supply chain center has been a model of efficiency and savings, the in-plant operation also has generated big savings ($1 million plus annually) and launched a Web to print solution to make the in-plant even healthier.
Created just five years ago, DPC was initially receiving print requests via email. Fast forward to 2017, and now the in-plant is ranked as one of In-plant Graphics' 2017 largest in-plants and has added Web to print software. This webinar will show how a growing in-plant implements and rolls out Web-to-print software, and how important it is to work with all the appropriate partners to ensure success.
Attendees will learn how DPC is using Web to print to:
Enable branding and compliance control
Increase efficiency for customers and the print center
Provide consistent and accountable pricing, tracking, and reporting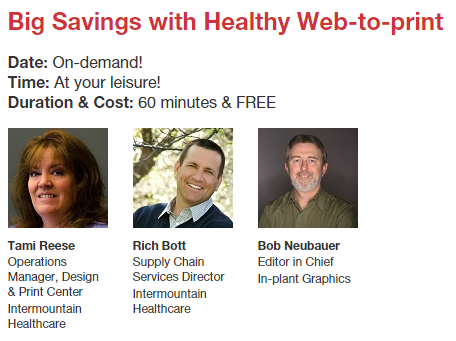 Watch the Webinar Replay
Register to see the webinar replay of "Big Savings with Healthy Web-to-Print", with Tami Reese (Operations Manager at the Design & Print Center), Rich Bott (Supply Chain Services Director) and Bob Neubauer (Editor in Chief/Content Director of In-plant Graphics).
Sponsored by Rochester Software Associates