Vince Tutino
|
September 13, 2016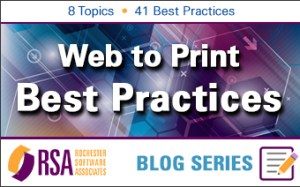 This is the third post in our series, "Web to Print Best Practices for In-Plant Print Centers." In the series, I'm covering eight topics, including: installation, roll out, marketing the system and more. In my last post post, I offered Seven Installation Best Practices and a Few Purchasing Tips. In this post, I'll discuss roll out best practices. Don't want to wait for the full series?  Over the years I've worked with many customers on their Web to print roll out plans and ideas. These roll outs, or launches, take several forms, and some work better than others. In my experience, the most successful roll outs are gradual, starting with a pilot group, adding new groups of customers in stages - offering tools along the way to help users use the new system, and using customer feedback to make adjustments along the way.
The Big Bang Can Cause a Big Bump The "Big Bang" roll out is where everything in the system has to be 100% functional and the entire company is "turned on" in one day. Some systems have to be rolled out this way- like the affordable care signup system. These systems take significant preparation and testing time and can include risk. What kind of risk? Think about 500,000 users all coming to your print ordering site on day one. Avoid the "big bang" method if you can: oversights and unintended results are common with this method.
Piloting Your Web to Print System Offers a Softer Landing When your system is at a point where you can start taking some orders for common items, find a pilot group of known "friendly" users who are willing to try the system and give you ordering feedback. This is a good way to get feedback about what users like and don't like, and will give you the chance to make changes without showing the system to the entire organization (where there may be some users who are not as sympathetic as your pilot group). For example, Citrus College in Glendora, California and the Sheboygan Area School District in Sheboygan, Wisconsin both used the pilot user approach with great results.

Benefits and tips for piloting: - Piloting also gives your production staff the ability to practice processing orders through the system. - It's a great learning experience for print center staff and gives you a chance to make adjustments on the print shop side of the process, too. - Some customers have staff act as users in a small early print center-only pilot to experience the system and ordering process from a customer perspective. -Don't wait until everything is perfect. You can still process jobs manually if needed and make adjustments as you go. Chances are that it's still going to be better than your current process, so get started!
Graduate from a pilot to a controlled, rolling or limited launch. When you are happy with the adjustments you have made in your pilot, you will want to next have a controlled roll out to the rest of the organization. Start by rolling out a few groups at a time (this can be department, schools, hospitals, or divisions). If possible, coordinate on-site visits and training with the roll out of each group. You'll find that word may travel fast. One school district that was rolling out WebCRD to 50 plus schools started getting orders from schools they hadn't done training or announcements for yet. Good news travels fast!
Create short how-to videos. People don't seem to read guides anymore. In fact, most products you buy don't even include anything more than a quick-start guide website visit to learn how to operate the product. On the WebCRD Login or Home page, you can include a short video of how to place a basic order. The exact order process will vary depending on your configuration and billing process. Take the time to record a video for your users on basic ordering. If it's appropriate for your organization, have some fun. For example, some of our customers have recorded fun videos that announced the new system roll out; their customers really loved the video. You may also want to create one-page quick reference PDFs that users can download from your home page and bring some as handouts when you do your training.
Solicit Customer Feedback. Changes to your Web to print system will be ongoing due to process, equipment, product and services changes and software updates. 
Survey your users and solicit their opinions.
WebCRD allows you to configure a survey link (to your favorite survey tool) in every email sent to a customer about their order. Positive comments can be used to boost shop morale and for marketing. With this ability to provide feedback at every point in the process, it will be easier to catch and address negative comments early.