Howie Fenton
|
August 15, 2019
As we approach the end of the year it is worthwhile to consider the trends that we see this year and consider how we will address them. This is the first in a series of blogs examining these trends and how to plan for next year with these trends in mind. This first article discusses the crisis in staffing. In the coming months, we will address other industry trends that we see.
Staffing Crisis Trend
For a decade experts have been discussing the coming crisis in staffing. Unfortunately, those predictions have become true. At the recent IPMA conference in Louisville, Kentucky we announced some preliminary results of the IPMA 2019 survey. One of the findings was about the great challenges these in-plants face. The top two challenges tied at 39% of respondents were: finding and hiring good staff and training customers to better prepare files.
Question: What are your greatest challenges?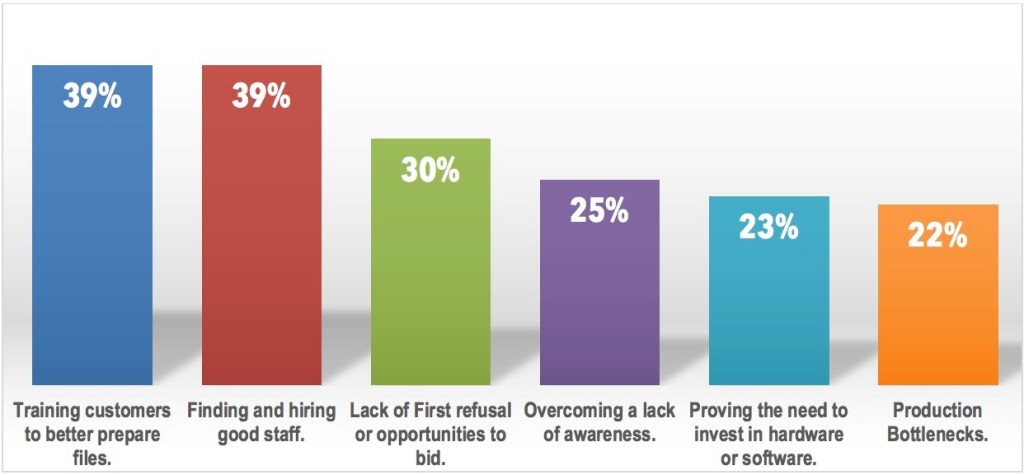 What makes the problem worse is that the staffing problem is industry-wide- it is impacting commercial printers, too. In WhatTheyThink's Winter 2018–2019 Business Outlook report, when companies were asked "Are you considering hiring/adding staff in the next 12 months?" the number one answer by 48% of respondents was yes. When asking "What positions are you looking to hire?" the top response was sales representatives.
The same was found by SGIA in 2018 and 2019. In the report Running a Profitable Printing Business (2018) the SGIA and NAPCO researchers asked leading printers to identify their greatest challenges. In fact, when we look at the top five answers except for the hiring sales rep answers, the remaining answers look identical to in-plant challenges, which include: hiring production staff, selling more value, price competition and competing against low cost providers.
Q: Please rank the level of challenge that each of the following present to your company: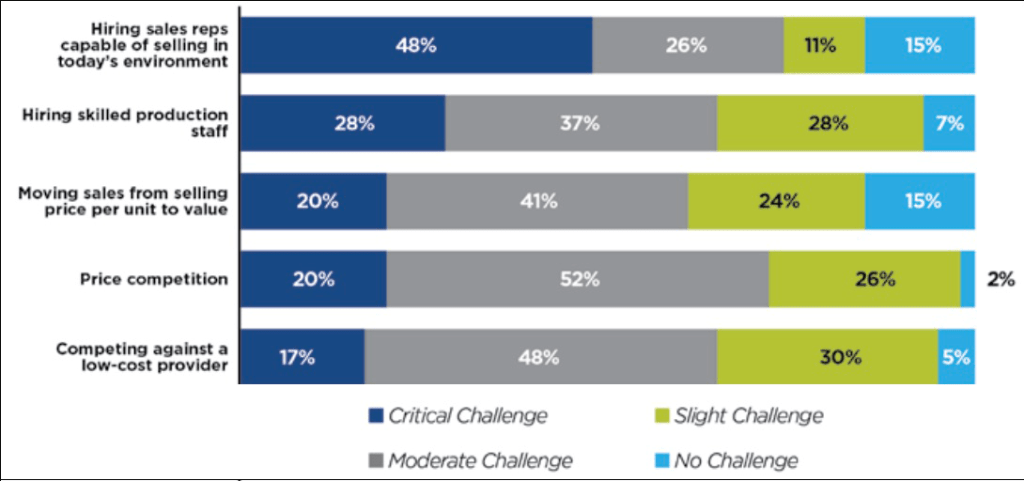 The most disturbing research, however, comes from the latest research from SGIA's Critical trends Report 2019. It was not the fact that 54% reported sales were unchanged or that 43% reported that profitability was down. The concern was the response to the question "Why were profits down?"
Over one third or 35% of respondents reported labor shortages forced the hiring of less skilled and less productive personnel and 30% reported workflow inefficiencies.
Four Ways Leading In-plants Prepare to Meet Staffing Shortages
In-plants cannot afford to suffer the consequences of hiring less skilled staff, lower productivity, increased costs, complaints from customers, and scrutiny by administration. As a result, in-plants must prepare strategies to insure hiring skilled staff and / or overcome staff issues by automating manual tasks and workflow. Leading in-plants are becoming much more creative in their hiring practices.
Lead salary conversations with benefits packages. Because salaries are often higher in commercial shops leading in-plants frequently lead conversations with benefit packages. For certain people and even specific generations the advantages of benefits packages are significant. Many seasoned professionals will look favorably at great healthcare, education benefits, retirement options and more time off.
Another option is on-call staffing. Leading in-plants, especially within higher education, utilize students to create an on-call staffing solution. They hire first semester freshman and go through the painful process of eliminating as many as 7 or 8 out of 10 workers to find the cream of the crop. The good news is that these student workers can last for years and a few can become full time staff.
Cross training is another world class strategy. If you look closely at your operation you may find that during certain times of the day that one area is slower while another area is overwhelmed. In one in-plant we found that the work came in through the mail and then became this huge bottleneck that moved from step to step throughout the plant. Moving staff with the load of work helped reduce the impact of the bottlenecks.
Finally, using software for automation is a strategy we see employed. Automation can reduce or eliminate some of the manual intervention that requires staff time. Adding JDF information to PDF files can automate unique color management (brand colors), imposition, in line finishing, as well as printing and monitoring to 2-D barcodes for mailing. Web to print software can reduce estimating, automate job ticketing, preflight and in some cases fix files (embed fonts, change color spaces).
Conclusion
As the predicted staffing crisis becomes a reality, in-plants need strategies to avoid hiring unskilled staff that cause productivity declines, increased costs, complaints and administrative scrutiny. Leading in-plants use three strategies to meet their staffing needs: lead hiring conversations with benefit packages, use on-call staffing, and take advantage of software automation to reduce the need for staffing and keep costs low, which will help them plan for 2020.
In our next trend series blog, we'll talk about the renaissance of increased value and how you can capitalize on this trend in 2020.