Howie Fenton
|
March 21, 2017
The latest State of the Industry report written by Andy Paparozzi, the Chief Economist at IdeaAlliance, was recently published. In his presentation at a recent conference, Andy spoke of the decline in overall work from a high of $98.3B in 2007 to a low of $77B in 2011. Since then however, sales have increase for five consecutive years and is currently estimated at $82.5 B.
In the latest market research from the PRIMIR 2016 study entitled, "Digital Printing Technology's Influence on the U.S. In-Plant Printing Market" there are slightly less than 20,000 in-plant printing sites in the U.S. with 75% of these graphic arts-oriented, and the remainder devoted to transactional printing. This study was a collaborative effort between IDC and the company that I work for,  Integrated Methods Group, or IMG. The number one factor driving growth according to 76% of respondents was in color digital printing and the number one factor driving declines was, "lower volume due to electronic media, internet or mobile," reported by 64% of respondents.
The Top Three In-plant Priorities
A Printing Impressions webinar entitled "Higher Value Communications Through Color" by Jim Hamilton, a Group Director at InfoTrends, presented information on the future business direction of in-plant and commercial printers. This information was part of the InfoTrends Production Software Investment Outlook study in 2016.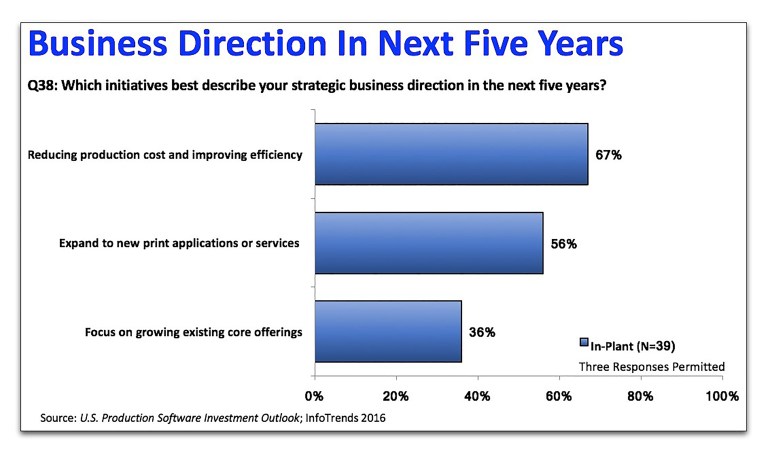 Not surprisingly, reducing production cost and improving efficiency was the top priority. If this is something you are considering there are only a few strategies to consider: software automation, cross training staff and quality initiatives (ISO, Six Sigma).
The second highest priority was expanding new print application or services. There are many new products and services. Some of the more popular are large format printing, on-line ordering or Web to print software, variable data printing, insourcing and managing the fleet of copiers and printers.
The last is growing core offerings. Anyone that took advantage of the In-plant Printing and Mailing Association's (IPMA) in-plant awareness month campaign last month has already done much of this. If you did not, you can read about ways to increase awareness on this site, at IPMA.org, and inplantgraphics.com.