Howie Fenton
|
February 07, 2023
On January 19, 2023, NAPCO presented a webinar entitled "How to Prepare for the Tough Times Ahead." In that webinar Andy Papazzori the chief economist for Printing United Alliance, opened with a few sobering lines. "We've got some tough times ahead as our industry slows appreciably with the American economy, and quite possibly into a recession, due to our material shortages, labor shortages, and cost inflation." Andy went on to discuss how to deal with these issues, and the first on his list was to maximize productivity. In this blog, we will talk about how to analyze your workflow, identify issues, analyze different solutions, and make a change using what I call the "Four STEPS" to help you increase productivity.
Analyzing Your Workflow 
Printing is a customized production business. Your production workflow is made up of a series of sequential, linear steps. Sequential means it is one step after another, and linear means it would be a straight line if you mapped them out. This means that you generally can't skip or rearrange steps: you can't do bindery before printing and skip prepress. 
There are different workflows for different products, such as business cards, large format, or mailing, but most share common steps such as estimating, customer service, prepress, delivery, and billing. When we analyze each of these workflows, we typically find steps where the work sits in piles longer than in other steps. These are called bottlenecks, which means that the demand for that step is greater than the capacity.
As explained in the book, The Goal by Eliyahu M. Goldratt, bottlenecks determine productivity. Bottlenecks are especially important when they impact a shared resource. If you increase throughput through a shared resource, you increase the productivity of the facility.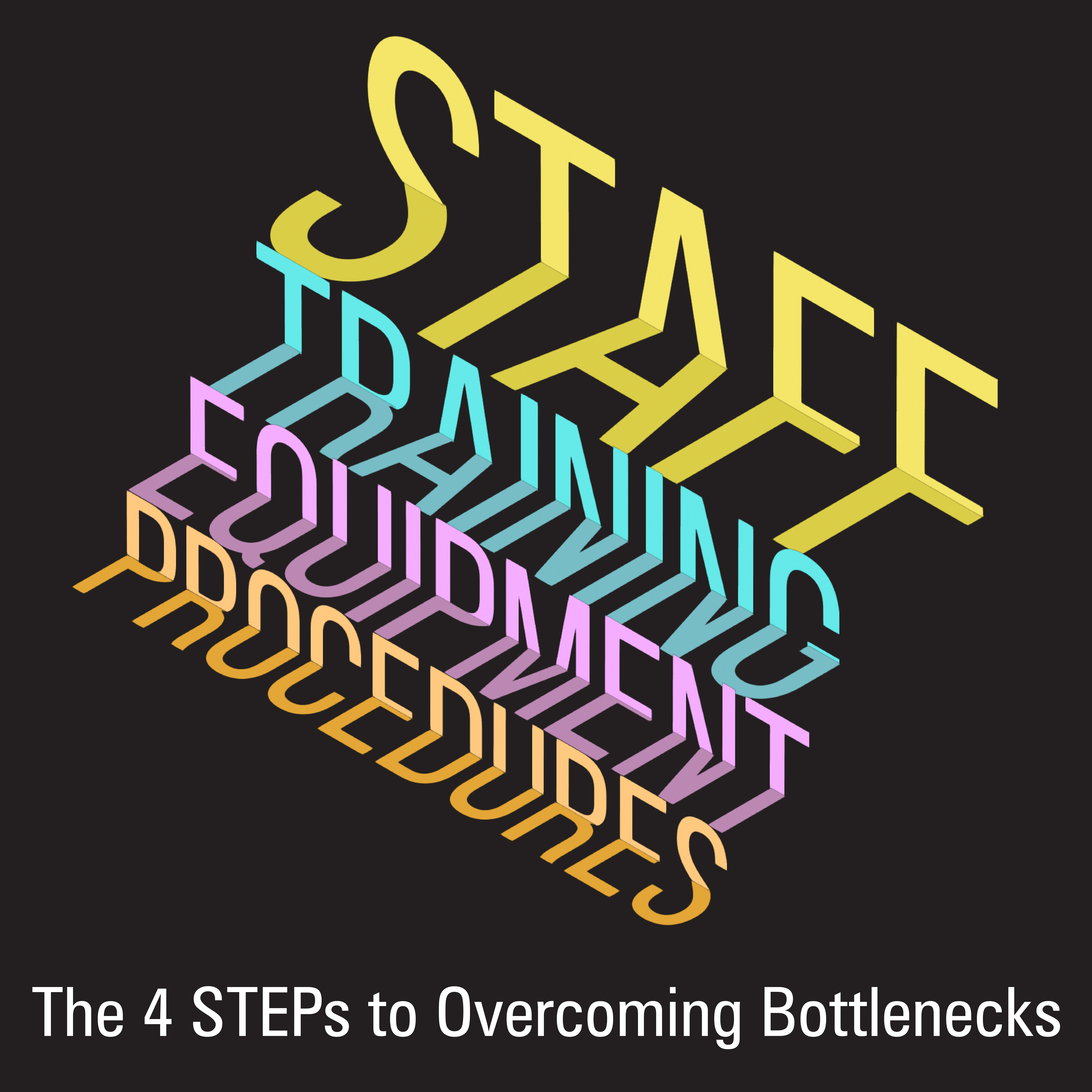 Identifying and Overcoming Bottlenecks
Knowing you have bottlenecks is not that difficult. Most companies know where their most significant bottleneck exists, while world-class companies know where all their bottlenecks exist. The more challenging question is how you overcome your bottlenecks. An acronym I use to help remember is the four STEPs. The four STEPs to overcoming bottlenecks are staff, training, equipment, and procedures. For most bottlenecks, you can use one or more of these solutions.
Let's say, for example, your company has to do a lot of scanning, and the bottleneck is in scanning. A staffing solution would be to hire another person and work a second shift. A training solution would be to create a best practice for scanning and train everyone to scan the same way (SOP or standard operating procedure). An equipment solution would be to buy a faster or additional scanner. A procedural solution might be to change the process, perhaps requesting files earlier to scan.
Hidden Issues Can Cause Bottlenecks
Not all bottlenecks or production issues are apparent, some are hidden. Two examples are over-inspecting and inefficient physical plant layouts. The term over-inspecting is misleading because you would assume that the more you inspect, the higher the quality. But the opposite is true. Companies with the highest rework often have exorbitant inspection procedures and long checklists with multiple people inspecting in many steps because they don't make it right the first time.  
Plant layout issues result from consecutive steps in the process being too far apart, paths crossing increasing rework, or too small a space for raw material or finishing goods storage resulting in material damage.
A Cost-Benefit Analysis of Potential Solutions can Help you Choose the one that is Right for Your Organization
Suppose you have to choose between two or more of these different solutions, one tool to use is a cost-benefit analysis. For each STEP, you calculate the cost and increase in productivity (benefit). While not a specific cost-benefit analysis for any situation, below is a representative cost-benefit analysis for a small shop.

The least expensive options are training and procedural changes. The immediate benefits are not as impressive as other options but are often longer-lasting. The additional benefits of training and procedures last forever, while staffing and equipment solutions do not. In addition, no company can afford to invest in new staff and equipment every year. Best-in-class companies alternate between higher cost improvement strategies (staff, equipment) and lower cost (training, equipment).
Typically the most impressive gains are achieved from additional staff or new equipment. For example, installing a new press can increase the productivity of that step by a minimum of a 100% increase. More impressive is if you invest in a step that is the bottleneck. For example, a Web to Print solution that overcomes bottlenecks in shared resources such as estimating, customer service, prepress, or billing may increase productivity by over 200%.
Conquering Bottlenecks Does Not Need to be Expensive
Virtually all production facilities have bottlenecks. When performing a workflow audit, we create process maps and focus on bottlenecks to identify the "low-hanging fruit," meaning changes that are easily achievable and do not require much effort. Bottlenecks come in two categories: static and moving. A static bottleneck is one that is always in the same place. A moving bottleneck results from a sudden increase in volume, such as the FedEx truck pulling up at 10 a.m., creating a pile of work that goes through the entire workflow. The solutions discussed in this article address the more common static bottleneck.
The idea is to find your bottlenecks and increase the throughput through the bottleneck. I think the reason bottlenecks continue to plague our industry is that most people think that you have to spend a lot of money to fix them, which is untrue. While you may only be able to afford hiring a person (staffing solution) or buying new equipment (equipment solution) every few years, you can always afford a training or procedural solution.
Learn How to Use the Four STEP Process Yourself
Solve your bottlenecks to increase productivity in your print operation using the four STEP process. Talk with Howie Fenton or RSA to learn more.