Howie Fenton
|
November 07, 2023
Every year, printers find themselves faced with opportunities for change. At the same time, there are new challenges to overcome as well. And as 2023 comes to an end, 2024 promises to offer some of each.
Whether it's labor shortages, a decline in customer service, or a shift from production specialists to generalists, the challenges have been evolving over the past few years – which makes them familiar to most printers by now. But there are growing opportunities as well, and strategies printers are harnessing to find new potential or mitigate the effects of the obstacles they're facing.
In this blog post I'll examine these opportunities, challenges, and strategies, and how I see them shaping up in the year ahead.
Now let's count down the nine biggest print industry trends I'm predicting for 2024.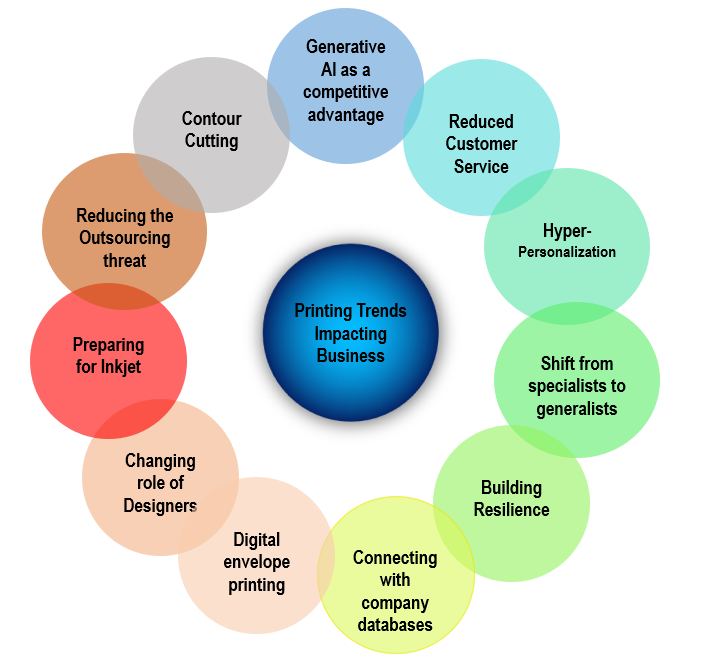 1. Industry Mega Trends Will Require a Shift in Focus
The print demand landscape is undergoing significant changes. While some companies have bounced back to their pre-pandemic production levels, others are still lagging. And while there's a notable decline in the demand for some applications, there are also several new applications and technologies as well – including digital envelope printing, design services, promotional materials, stickers, flatbed printing, contour cutting, promotional products, personalized database printing, inkjet printing, large format, copier fleet management, packaging, and labeling.
This shift requires printers to place a renewed focus on diversifying services and equipment to meet these emerging demands. 
2. Customer Service Is Suffering, and Customers Will Notice
A recent study by Accenture showed that businesses are placing profits (or cost recuperation for in-plants) ahead of customer satisfaction. With prices rising due to escalating manufacturing costs, many are finding themselves contemplating staff reductions too. But this has consequences. The study showed that 37% of customers believe that organizations are valuing profits over a superior customer experience. The study also shows that 47% of customers feel undervalued because of subpar service.  
This trend spells potential trouble for in-plants, since disgruntled customers don't hesitate to voice their concerns and that negative feedback can spread rapidly. This could push companies toward outsourcing. To circumvent these challenges, in-plants should actively employ surveys and focus groups, ensuring they stay informed about customer sentiments and swiftly address any arising issues. 
3. Generative AI Will Create a Competitive Advantage
As I've discussed in previous blog posts, the importance of artificial intelligence (AI) is growing fast. In fact, the Boston Consulting Group asserts that for a company to lead its industry in the coming five years, it must establish a robust and visionary generative AI strategy now.
AI is quickly transitioning from being a mere luxury to becoming part of a critical strategy. This advanced technology enables organizations to craft and smartly streamline both customer interactions and internal processes. In 2024, then, it would be prudent to engage in collaborative discussions with your team about how to leverage it wisely – because companies not embracing this revolutionary technology risk falling behind.
4. Contour Cutting Will Become a Value-Adding Service
For years, large-format printing has been viewed as one of the essential innovations in products and services for printers and in-plants. However, many companies now realize that contour cutting, when applied to large-format printing, has the potential to enhance the value of signage, labels, and stickers. According to the NAPCO 2023 Print Business Outlook Research study, 21% of in-plants report buying a contour cutter and 20% report plans to buy one.
Contour cutting offers precision in cutting any stock, ensuring the perfect final size. This technique is gaining traction, especially for its capability to design intricate details on holiday cards and invitations, such as the delicate outlines of leaves, imparting a distinctive textured appearance. When complemented with features like an extended color range or gold, silver, or colored foil embellishments, contour cutting delivers a visually stunning end product. 
5. Printers Will Start Building "Resilience" Into Their Business
The term "resilience" has garnered attention recently as an emerging business concept. As per the Oxford Dictionary, resilience signifies "the quality or fact of being able to recover quickly or easily from, or resist being affected by, a misfortune, shock, illness, etc." For in-plants, this could mean preparing for potential staffing issues, economic slumps, drops in demand for certain goods or services, or even the looming danger of competitive outsourcing firms. 
That means, for in-plant printers, resilience takes on multiple dimensions. An initial comprehensive risk evaluation is crucial to pinpoint and categorize potential hazards tailored to their operations – be it economic shifts or outsourcing entities. Vital, too, is the expansion of product and service portfolios, integrating innovations like wide format, contour cutting, promotional items, and efficient copier fleet management. Such diversification not only curtails reliance on a singular revenue channel but also fortifies the in-plant's relevance by aligning with current industry evolutions.
6. The Demand for Hyper-Personalization Will Grow  
Two prominent trends are creating significant opportunities for in-plant printers: the evolution of enterprise database skills and the escalating demand for hyper-personalization.
Although personalization in the form of variable data printing has been prevalent for years, its use was mainly confined to transactional printing. But the demand for personalization is only continuing to grow, highlighted by John Deere's unique strategy of offering data from its sensor-fitted farm equipment back to farmers to amplify efficiency. And printers can take a page from that book. An advantage that in-plants have over commercial printers is their growing acceptance when it comes to sharing company information. 
In the modern era, data is the backbone of business processes. In 2024, I think companies will refine their data usage for streamlined operations and improved client interactions. The next exciting step is leveraging data as a revenue generator, unveiling fresh business opportunities. Enterprises are becoming more skilled at harnessing data to design unique experiences aligned with individual tastes and patterns. The question to consider, though, is how can printers use their data to increase personalization, awareness, sales, or customer satisfaction. 
7. The Shift from Production Specialists to Generalists Will Continue 
This past year, we've seen a growing need for designers who can multitask, handling not just design but also prepress, customer support, and Web to Print responsibilities. And I expect that will continue into 2024. As per the Bureau of Labor Statistics (BLS), the employment of graphic designers is anticipated to see a 3% growth from 2022 to 2032, with BLS estimating an average of 22,800 job opportunities for graphic designers annually over this period. The availability of multipurpose designers could help offset the loss of experienced estimators, CSRs, and prepress staff. 
Incorporating designers into the team enhances the comprehensive "one stop shop" approach and augments the capability to provide diverse services. These professionals can tailor e-commerce platforms, craft designs for large formats, and manage social media aesthetics. Competent designers are also pivotal for preflight checks, file adjustments, and ensuring brand uniformity. 
This increase in responsibilities for designers is one small example of the importance of cross training or shifting production staff from specialists to generalists. And as in-plants struggle to hire new staff, the importance of this will only grow. 
8. Leaders Will Build Strategies to Deal with the Labor Shortage 
As the labor shortage persists, companies will be prompted to adopt various strategies, such as software automation, adjusting hiring criteria, and focusing on Gen Z. Tools like Web to Print and AI will also be utilized to enhance efficiency. As highlighted in my most recent blogs, incorporating AI is also an innovative approach to reduce CSR time. Innovative hiring practices emphasize recruiting younger talent and training them, including high school graduates and those from unexpected sectors. Some businesses are even enlisting retirees during high-demand periods. 
Alternative recruitment avenues are gaining traction in luring in this fresh talent, including social media platforms (e.g., LinkedIn, Facebook), freelancing platforms (e.g., Upwork), and job portals (e.g., Indeed, Monster, Glassdoor). But as the minimum wage increases, competitive salaries will become even more imperative. And that's just a start. Notably, a significant draw for some of these recruits lies in the prospects of company inclusivity, environmental consciousness, potential for growth, and stable career trajectories – making these a priority for businesses as well.
9. Businesses Should Prepare for Inkjet Presses 
Inkjet production printing has arrived, yet the NAPCO 2023 Print Business Outlook Research study showed us that 60% of in-plants still haven't considered its adoption. As the Star Trek saying goes, though, "resistance is futile," and I predict 2024 will be the year printers realize this. It's time to start your research and weigh the advantages and drawbacks, to understand how inkjet presses will transform your workflow, increase your capacity, reduce staff, and change your space requirements.  
Those in-plants that have already transitioned to inkjet have found they can replace multiple toner machines – reducing space, streamlining staff, and increasing printing speed. This allows them to reclaim previously outsourced tasks. While it might not suit every in-plant, the majority will likely embrace it. 
Conclusion
As we come to the end of 2023 and start moving into 2024, the printing industry promises to continue to evolve. But change doesn't need to be a bad thing, and printers and in-plants can pull on a range of strategies to overcome the challenges facing the industry today. Just as they embrace new opportunities too. 
And as with any other year, I'm sure there will be unexpected evolutions none of us are expecting. With the right foundation in place, though, I think printers and in-plants will be ready for anything. 
Meet All of the Challenges Ahead with Expert Best Practices and Leading-Edge Solutions
Build new efficiencies into your printing operations to do more with less, personalize your printing experience, and create more value for your customers.