Rochester, NY
|
October 17, 2023
Rochester, NY, September 17, 2023, Rochester Software Associates (RSA), provider of production print workflow software solutions for in-plant print centers, commercial printers, and PSPs announces the preview of its WebCRD in-plant Web to Print software v12. Attendees of the PRINTING United Expo being held in Atlanta, GA from October 18-20, 2023, will be the first to experience the upcoming release as part of RSA's moving workflow forward showcase at booth B1511.
WebCRD is the only Web to Print tool designed to meet the unique needs of in-plants, with scalable storefront and production management in one workflow solution. The upcoming release will have all of the same robust features WebCRD is known for — combined with several new ones. Users can expect: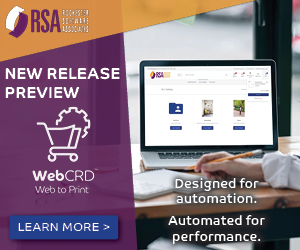 An innovative and intuitive UI, alongside an unmatched user experience available from any device, anywhere
New variable data printing (VDP) options, including dynamic multi-page creation, streamlined template management, no-code customization, and print-spec selection 

 

Additional modules for increased functionality and a robust set of APIs to extend the solution and add customizations

 

Intelligent Document Setup™ that automates document ticketing by only allowing appropriate choices based on document attributes

 
Director of Sales, Ben Parker noted, "Users today expect a clean, seamless user experience, no matter what solution set they're using — and the upcoming version of WebCRD will deliver exactly that. We've built a new user interface from the ground up, to give our customers the Web to Print experience they deserve, no matter where they are or what device they're working from. And that's just the start of what users can expect from this newest update."  
Learn more about how the newest release of WebCRD will "crush your automation goals" at PRINTING United Expo. Book a show meeting or demonstration at RSA's booth B1511 by contacting RSA today.
RSA's workflow solutions are available through RSA's partners, including Canon, Kodak, Konica Minolta, Ricoh, Toshiba, and Xerox. For more information, visit RSA at: https://www.rocsoft.com.  
###
About RSA  
Rochester Software Associates (RSA) is the only company in the industry to provide prepress, transform, output management, and Web to Print software solutions to support digital production print workflows. For over 35 years, our customers have used RSA solutions to turn printing into productivity™, automating their print centers and seamlessly converging printing from the data center, in-plant, and distributed enterprise print environments. RSA's proprietary AnyPrint™ technology works across production printers, enabling RSA software to send fully ticketed print jobs to all production print devices from the major print vendors, eliminating the need to manually re-ticket jobs. 
RSA's AnyPrint technology is a core technology embedded in all RSA products. Products like WebCRD™, the leading Web to print software for in-plants, QDirect™ Output Manager, and ReadyPrint™ prepress software maximize employee productivity and corporate profitability, boost operating efficiency, increase print volume without increasing staff, and delight customers with better turnaround times and 24/7 access. 
For more information, visit https://www.rocsoft.com.
©2023 Rochester Software Associates, Inc. WebCRD, QDirect, ReadyPrint, ImpactVDP, Customer Success Assurance and Turn Printing into Productivity are trademarks of RSA.