Howie Fenton
|
July 25, 2017
This is the third and last in a series of blogs that addresses how to create a strategy to justify your in-plant's existence. In the first blog, we talked about measuring performance. In the second, how to use benchmarking to prove your value, and in this blog, we will discuss the growing importance of non-print technologies and services.
Where are the Growth Opportunities?
The peaks in the demand of print volume are long behind us. Only twice in the last three decades has the national print volume approached $100 Billion- in 2000 and 2007. Since then, print volumes have hovered around $80 billion. Future growth opportunities are not in traditional print products, but in non-traditional products and services.
Where are the growth opportunities? Different studies show different opportunities.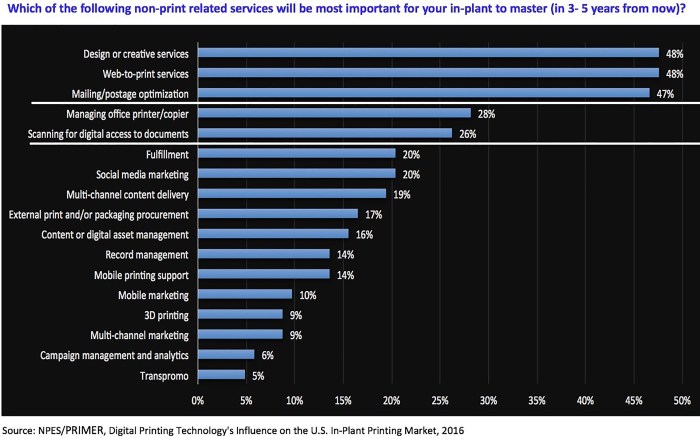 In the State of the In-plant Industry (2016), Joe Webb reported the top opportunities as wide format, new capabilities from new equipment, insourcing, personalized printing and signage.
In our consulting work, we are seeing growth in: network rule-based routing of longer print runs to the in-plant, garment printing, insourcing, and database management.
In the NPES/PRIMIR in-plant research we conducted last year, we found the following:
 Where Should an In-plant Invest?
The obvious question to ask is which value-added service should you add? There are two strategies to consider:
1) Researching your outsourcing spend (calculating how much is spent on outsourcing), and
2) Measuring your customer's changing needs. Research into outsourcing spend starts with an educated guess or hunch. For example, your delivery person may report seeing more deliveries from your quick copy shop or someone on staff says that business card orders have fallen.
It's a fact of life that your customers' needs will change. This could be the result of a green initiative from within your enterprise to print less. If you're a University the change could be from the enrollment department wanting to increase enrollment by using variable data printing to customize individual pieces. The point is not how your customers' needs are changing but creating a system that lets you know they are changing so you can be more responsive.
Listening to your customers is called listening to the voice of the customer (VOC). Three typical methods to listen to your customers include: focus groups, surveys, and one-on-one meetings. Whatever the method, taking the time and effort to hear the VOC is one of the best ways to understand your customers' changing needs, identify opportunities, know how to respond to those needs, and design more value in your service offerings. When considering which non-print products/ services to offer, you should include listening to the VOC as part of that strategy.