Elisha Kasinskas
|
July 30, 2012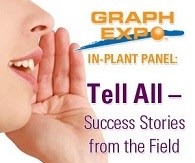 In-plants and corporate print centers from all over voted in May for their "dream team" of top successful in-plants on the first ever in-plant panel at GRAPH EXPO. Billed as the headliner event for the in-plant education track at GRAPH EXPO, and titled "Empowered In-plants: Tell-All Success Stories from the Field," Rochester Software Associates (RSA) announced the panelists chosen on July 19th. This article is the first of a four part in-depth series introducing each of the panelists.

Introducing: Jimmy Friend, Director of Print and Distribution Solutions, University of North Texas
The first panelist we'll cover is University of North Texas (UNT) Director of Printing and Distribution Solutions, (PDS),  Jimmy Friend. Known as a top quality Higher Education in-plant operation, UNT has won 54 awards in the past nine years, including the 2012 In-Print Best of Show award in the digital category. UNT Printing and Distribution Solutions has continually provided high-quality, cost-effective print and mail services for the UNT campus community. Their commitment to excellence in producing quality printing has ranked UNT Printing and Distribution Solutions as a national leader among in-plant printing and mail operations. They are very proud of their contribution in promoting UNT through their award winning printing and as an environmentally sustainable resource.
Stats for this successful University in-plant
UNT operates with a $5 million annual budget, producing 95 percent of all print projects digitally across their three locations with 40 employees.  Customers include the three UNT System campuses and other state agencies within the North Texas Region.
The shop has a mix of hardware and software, including multiple printers, folders, cutters, a coater, booklet making and binding equipment, laminators, a CD burner and an inserter. Jimmy's print shop uses a variety of software for Print MIS, imposition, mailing and mail processing.
So, What is the Secret to UNT's Success?
According to Jimmy Friend, the secret for this Higher Ed in-plant is "a dedicated staff/team who strives daily to provide the best quality product and service experience to our customers, at every level within the university system.  We continually monitor, define and update our work processes and equipment to gain efficiencies within every area of the operation."
Join Jimmy Friend and the other panelists October 8th at GRAPH EXPO's Headliner In-Plant Track "Empowered In-plants: Tell-All Success Stories from the Field"
Learn how the top in-plants in a number of vertical markets are building their success.  Other panelists include: Phil Larson, former Director of AFPress and grafaccent at American Fidelity, now President of Shepherd Consulting OK- Debbie Gallagher, Senior Operations Analyst, Department of Administrative Services (DAS) Publishing & Distribution Department for the State of Oregon- and Gene Voelker, Manager Supply Chain Business Services, Parkview Health.
The panel was moderated by Elisha Kasinskas, Marketing Director of Rochester Software Associates, developers of the top in-plant Web to print software, WebCRD.