Rochester, NY
|
July 19, 2012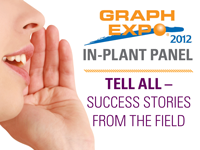 Rochester Software Associates (RSA), provider of production print workflow software solutions for in-plants and corporate print centers, is pleased to announce the results of the voting process for the peer-chosen in-plant panel, "Empowered In-plants: Tell-All Success Stories from the Field" in-plant track headliner session at Graph Expo.
In May in-plants were encouraged to vote to create a "dream team" of top in-plants they wanted to see speak on the panel. Panelists chosen are:
Jimmy Friend, Director of UNT Printing and Distribution Solutions, (PDS), University of North Texas in Denton, Texas. Known as a top quality in-plant operation, UNT has won 53 awards in the past nine years, including the 2012 In-Print Best of Show award in the non-offset category.
Phil Larson, former Director of AFPress and grafaccent at American Fidelity, an insurance firm based in Oklahoma City and now President of Shepherd Consulting OK.
Debbie  Gallagher, Senior Operations Analyst, Department of Administrative Services (DAS) Publishing & Distribution Department for the State of Oregon- the fourth largest Government in-plant.
Gene Voelker, Manager Supply Chain Business Services, Parkview Health. A non-profit, Parkview is northeast Indiana's largest healthcare provider and one of the region's largest employers.
The voting process also offered participants the ability to determine the session's content by submitting questions for the panelists. The panelists plan to offer: an exclusive view inside their operations, including how they have become a strategic asset to their organization; discuss how they are growing and adding services; reveal the secret of their operation's success and what has had the greatest impact on it; take a frank look at what has been tried that did not work and how they moved forward; and offer up their biggest challenges, budget dos and don'ts, and advice for other plants about how they can be successful. Attendees can continue to submit questions for the panelists at: http://svy.mk/LHIgDb until October 1, 2012.
The panel will be moderated by Elisha Kasinskas, Marketing Director of in-plant workflow specialist firm, Rochester Software Associates. Elisha stated, "It is an honor to be moderating such a talented group of top in-plant print professionals. In developing the panel concept, we felt that in-plants could benefit greatly from learning the secrets of success in these top in-plants and take this information back to their operations."
The session will be held on Monday, October 8, 2012 from 10:30-Noon. For more information, visit: http://bit.ly/GEPanel.
RSA's workflow solutions are available directly from RSA and through RSA's partners. For more information, visit RSA at www.rocsoft.com.
©2012 Rochester Software Associates, Inc. WebCRD, Customer Success Assurance and Turn Printing into Productivity are trademarks of RSA. All other referenced trademarks are property of their respective owners.