Howie Fenton
|
January 07, 2022
Although the pandemic challenges remain, there is typically a sense of new hope associated with the beginning of a new year. It does not matter if you are "struggling and treading water" or "going gangbusters." January is a good time to plan for the changes that will result in the new normal. In this article, we discuss what the new normal might look like, how to plan for growth, how to deal with new staffing issues called the "the great resignation," and how to research and identify the root causes of lingering low volumes and overcome them.
This article is broken into two sections: the first part is for companies anticipating a natural return of volume and growth, and the second part is for those remaining slow or expecting declines. It is entirely possible that those in-plants that have been fortunate in finding new products such as pandemic information brochures, face shields, or floor graphics could see declining volumes. In contrast, those that experienced declines when staff worked from home could expect an organic increase in volume as staff return to the office.
Anticipating Growth
If you anticipate growth, then plan for growth. While some work will return naturally, it may not return to pre-pandemic demand because supply chain issues will continue to increase prices and delay materials deliveries. But the one issue that will not fade away is the staffing issue. Did you have to reduce staff? Will growth require more staff? Where will you find them?
As we have discussed before, finding, attracting, and keeping staff is one of the greatest challenges in our industry. In the 2019 Next Generation Tactics and Strategies for In-plants (IPMA 2019) study we did for the In-plant Printing and Mailing Association (IPMA), we learned that 39% of managers reported it was their greatest challenge.
Many companies are reporting that staff are quitting, and it's not just retirements. In an article in Benefit News, Elise Freedman, workforce transformation practice leader at Korn Ferry, says, "The last 18 months have given us all a lot of time for introspection, and many professionals realize that the day-to-day grind of their jobs just isn't worth it. It's time for them to pursue options that are more fulfilling and provide purpose."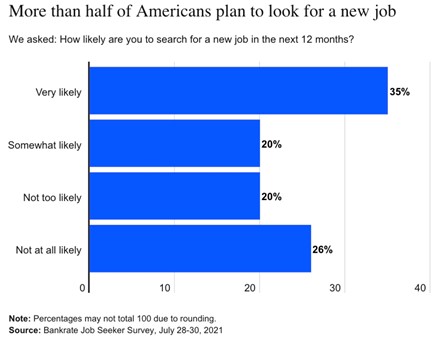 This has been coined "The Great Resignation." According to Bankrate's August job seeker survey, more than half of U.S. workers plan to look for a new job in the coming year. Some 56% of respondents said adjustable working hours and remote work are a priority.
What is the solution? The best practice to overcome recruiting problems is to adopt a proactive, constant recruiting process. This is similar to a four-step sales process, but the 4 steps in the recruiting process include: finding, engaging, nurturing, and closing.
Four-Step Proactive Recruiting Process
Finding staff has traditionally been done with the job fairs where you rent a booth and talk to prospective employees. This is still useful, but it would be better to also try to narrow your search to more likely and better prospects. One way is to meet with teachers in trade schools or guidance counselors in high schools and hand out printed brochures discussing employment opportunities.
Once you find prospects, you have to engage them. This is important and should be done by someone who is good with people, enthusiastic about the company, and understands the positions. This might be the manager or a good CSR.
Much like sales, people nurture new prospects who are not ready to commit, and recruiters have to nurture new candidates to keep them engaged. This requires occasional phone calls, emails or texts, or meetings at Starbucks. If you have a social media presence, you can also share company updates.
The final step is converting prospects into candidates. If you decide to invite them in for an interview, make it an enjoyable experience. Don't just make a schedule that has them go from one staff member to another; try to make it more enjoyable. Take time to give them a tour, show them where they may work, introduce them to people that they may interact with, and help them understand your company culture. For younger people understanding the culture, the company values, and benefits packages are often very important.
See the related posts at the bottom of this blog for more staffing and growth ideas and strategies.
Dealing with Declining Volumes
If your demand has remained well below your typical volume or if you are starting to see volume declines, then you need to understand why. You have to find the root cause and address it!
This means client research, which could be focus groups, surveys, or one-on-one meetings. This is not one of those situations where you want to identify your happiest customers who will tell you that you are doing a great job. The goal of this research is to understand how your customer's needs are changing and how well you are meeting those needs.
Instead of approaching this as "just tell me how great we are doing," this should be approached as "What are we missing, if we added X would it better fulfill your needs?" You may discover that turnaround time is an issue, which should prompt you to think about steps to streamline your process, such as Web to Print ordering or inline finishing for faster turnaround time.
You might discover that customers do not know everything you offer. In that case, your action item would be to create some new product sales videos. Train staff to tell customers about the videos, and email customers and prospects the video links.
You may find that there are additional products or services that clients want but you are not offering. This could include Web to Print ordering, promotional products, design, database services, mail/fulfillment, or variable data printing (VDP). In addition, there may be out-of-the-box services that have never been considered, such as taking over the managed print services, officially managing the print outsourcing, or offering a document scanning service that digitally scans and saves all documents..
Growing Staffing and Conduct Root Cause Analysis about Volume Decline Sources
The printing industry has struggled with staffing issues for decades before the pandemic occurred. The issue has been exacerbated by pandemic-related staff layoffs and the emerging "great resignation" trend. Companies that are reactive in their recruiting activities will struggle more in finding good staff than those who are proactive. We encourage you to use a four-step recruiting process that includes: finding, engaging, nurturing, and closing.
There are many possible reasons for lower volumes of print production. Some of the common issues to consider in your research include slower production turnaround times due to staff shortages, less supplies and higher costs due to supply chain issues, fewer people working in the office, fewer customers leaving the house, and the ongoing threat of transference to digital alternatives and social media. If your sales are declining, then you need to find out why and develop a strategy to overcome the issues. Best practices to research these changes include: focus groups, surveys, or one-on-one meetings.
Find Out More About Planning for Growth and Recovery
If you want more tips, strategies, and ideas to plan for your recovery or to investigate and address volume declines, reach out to me or contact RSA.