Elisha Kasinskas
|
April 11, 2013
Every in-plant manager struggles with a constant shift of customer priorities. In the middle of those requests is one for a customizable promotional piece for sales.  Research indicates print must be integrated into other channels. That means variable integration. The world of versioned and customized on demand with proofing and ordering for marketing and other areas must be addressed. Starting the journey can be intimidating. Finding time to research articles and information can be daunting.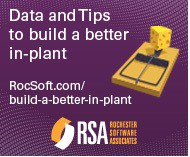 If you know how to build a better in-plant, then you are already familiar with four tips to get you started with VDP.  If not, sign up for RSA's "Tips for Building a Better In-Plant" newsletter. We have even included a bonus infographic packed with in-plant research data and statistics.
70% of in-plants report they are prepared to do some sort of VDP, but the most popular software is mail merge, followed by desk top software that is not a full solution.  A variable piece can involve the legal department, IT, compliance, marketing, and operational decision makers and can be anything from simple addressing to IT data feeds for Sales follow up.
If your Director of Communications came to you and said, "I've heard about the power of variable data, but the reality is that no one has really versed me in the value of it.  If message relevancy can increase my conversion rates, why hasn't anyone educated me about it? Would you be the one to do it?"  Would you know how to proceed?
Armed with build a better in-plant information, you'll be better prepared to help your Communications Director get versed in VDP  and can reply with a resounding  "YES!"  If not, you just might want to sign up for RSA's quarterly "Tips for Building a Better In-Plant."