Elisha Kasinskas
|
July 07, 2012
In-plants and corporate print centers from all over voted in May for who they wanted as the "dream team" of top successful in-plants on the first ever in-plant panel at GRAPH EXPO. Voters also submitted questions for panel members.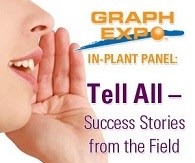 Learn the Secrets of Success of the top in-plants chosen by in-plants at the headliner in-plant event at GRAPH EXPO, October 8, 2012.
Billed as the headliner event for the new in-plant education track at GRAPH EXPO , and titled "Empowered In-plants: Tell-All Success Stories from the Field," this panel session will offer attendees an exclusive view into how the top in-plants they chose are growing their operations, adding services and have become a strategic asset to their organization, and reveal the secret of their operation's success. The panelists chosen are:
Jimmy Friend, Director of UNT Printing and Distribution Solutions, (PDS), University of North Texas in Denton, Texas. Known as a top quality in-plant operation, UNT has won 53 awards in the past nine years, including the 2012 In-Print Best of Show award in the non-offset category
Phil Larson, former Director of AFPress and grafaccent at American Fidelity, an insurance firm based in Oklahoma City, and now President of Shepherd Consulting OK. Phil is a frequent conference speaker and will be leading a GRAPH EXPO session about how to build variable and multi-channel offerings.
Debbie Gallagher, Senior Operations Analyst, Department of Administrative Services (DAS) Publishing & Distribution Department for the State of Oregon- the 4th largest Government in-plant.
Gene Voelker, Manager Supply Chain Business Services, Parkview Health. A non-profit, Parkview is northeast Indiana's largest healthcare provider and one of the region's largest employers.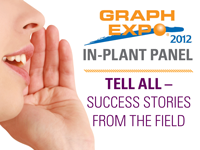 Don't want to wait? Watch the full Session Now
Watch and learn how 4 top in-plants make their print centers successful as they provide their insights at our Graph Expo 2012 panel session.
Moderated by Elisha Kasinskas.