Howie Fenton
|
April 11, 2023
A recent NAPCO study concluded, "To meet today's competitive challenges, businesses must re-align their strategies to adapt to new market realities. Digital printing and workflow automation has yielded a new formula for success" (The New Formula for Production Print Success, 2023). One key aspect of remaining competitive is increasing productivity. However, management often hesitates to invest in new technology and can slow the process with concerns or objections. This blog is the first in a series that discusses how to prepare to address these concerns or objections effectively. This installment emphasizes the importance of garnering support, fostering collaboration, and building trust. 
Management may hesitate to invest because of the high cost, which can be difficult to justify, especially if existing equipment and processes are still functioning. Additionally, uncertainty regarding the return on investment can cause reluctance, as management may be unsure that the anticipated payback will be realized quickly enough. But there is also the fear of the unknown that also creates apprehension among decision-makers, introducing uncertainties and concerns about embracing change. What talked about these issues in a previous ebook "Why Printers Don't Invest in Workflow Software." 
The result of inefficient workflows is longer manufacturing times, higher costs, and higher prices. The NAPCO study, "The New Formula for Production Print Success," reported that 2 out of 5 of the key challenges for printers involved price (below).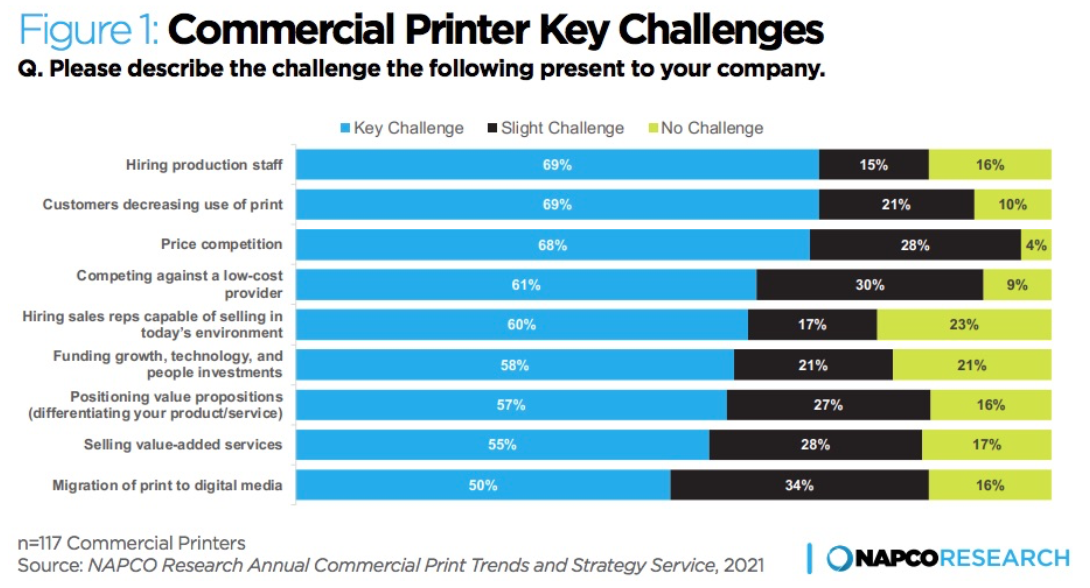 If you are preparing to justify an investment, you should spend time garnering support from other team members and departments. Below are nine steps to increase trust and enhance collaboration. 
T

est the temperature

, seek the buy-in

.

S

tart to build the case as early as possible and slowly

, a rushed or panicky approach is a bad start

. Let management know that you are considering

investing, and

explain

why.

E

ngage them by asking them what they think about the idea. As discussed

later

in the section about overcoming objections, you should be an active listener acknowledging their complaints and asking open-ended and probing questions to

demonstrate

understanding and foster trust.

 



Align with business

objectives

.

E

arly and often discuss how the new

investment

will align with the company's strategic goals, such as enhancing productivity, reducing turnaround time, lowering costs, increasing customer satisfaction

, and expanding product offerings

.

For example

,

one

University discuss

es

how

investments will help the faculty teach by

providing

color course materials, a hospital

and insurance company

talk about reducing time to invoice and increase payments,

and

one

manufacturer talk

s

about how they can give marketing more time for research.

 



Meet customer needs.

Talk about how this new investment will

demonstrate

that the in-plant is

responsive to

customer

'

s

changing needs.

You

don't

want the in-plant to gain the reputation of being behind the times or out of date.

Showcase

how the new hardware and

software

will enable the company to adapt to changing market demands and capitalize on emerging trends. Point out how customer's needs are changing and include relevant examples such as

customers ordering

want

the

Amazon effect

, the ability to order anytime, anywhere on phones or from online catalogs

,

or the benefits

of personalization.

 

 



Acquire

 n

ew customers.

Explain how

new products

will increase sales to your current base of customers and may increase the number of people sending work.

In our work, we found that the management assumes that everyone in the company

already

uses

in-plant services.

However, new products, such as

large format

or variable data mailing,

may serve an entirely different group of people within the company.

 



P

atie

nce

,

persistence

and persuasive

ness

. Investing in

new

technology

and changing your workflow is scary to management. Be prepared to face some resistance and be patient as you continue to present your case. Persistence, persuasion

,

and ongoing communication can lead to a positive outcome. To

get

more

persuasi

ve

,

consider enrolling in a sales course that teaches how to overcome objections. Gaining approval for

a

purchase is

essentially selling

your idea. Overcoming objections is an important skill for managers, salespeople, and customer service representatives. Invite your staff to

participate

too!

 



Use

case studies

and

testimonials

.

Present success stories from other printing companies that have adopted similar technologies and experienced tangible benefits.

Perform keyword searches through the

In-Plant Impressions

library or ask vendors to

provide

company names. Call these companies and ask about their experiences and

,

if possible

,

plan a site visit with staff who will be involved in the implementation or will use it. These examples can serve as powerful evidence of the

benefits and value of these investments

.

 



Uncover hidden concerns

.

As this becomes an ongoing discussion

,

you may discover new

objections

that

reveal

other

underlying concerns that were not initially

apparent

.

You may hear

unusual

concerns such as energy consumption,

space usage,

carbon footprint, or safety concerns.

Addressing these concerns can help you strengthen your proposal and increase the likelihood of gaining their support for the investment.

One University was told that they needed

the replace

the roof and used that as an excuse not to invest. In response, the in-plant found commercial space off campus,

and

calculated the cost to move in, which resulted in management approving the repairs and the new investment.

 



Be flexible and open to feedback

. Listen to management's concerns and be willing to adjust your proposal as needed. Show that you are committed to finding the best solution for the company and are open to exploring alternative options if necessary. 



Improving the proposal

.

Incorporating management's feedback can help you improve your proposal, making it more compelling and better aligned with the company's strategic

objectives

.

At one University in Michigan

,

there was an objection to investment because management believed that the in-plant was already

successfully

servicing the entire facility and staff.

That prompted research into Purchase cards (P-Cards)

usage

of outside services

, which found that

about 30% of the facility used their Purchase cards (P-Cards) for printing services.

Addressing these concerns

increases the chances of securing approval for the investment.

 
Trust building and collaboration are vital in overcoming management's objections to investing in new technology, as they create an environment conducive to open communication, mutual understanding, and effective problem-solving. Establishing trust encourages management to be more receptive to your proposals, enabling you to address their concerns and demonstrate how the technology aligns with the organization's objectives.
Collaboration fosters a problem-solving mindset, where both parties work together to identify challenges, risks, and solutions, which can help overcome objections by presenting well-researched and practical resolutions. Furthermore, trust-building reduces resistance to change and enhances your credibility as an expert, while collaboration ensures management's involvement in the decision-making process. Ultimately, trust and collaboration are essential for securing management's commitment to the investment and support for the successful implementation of new technology. 
In our next installment of this series, we will offer you 10 due diligence steps to overcome investment objections.
Get Expert Advice About How to Create a Compelling New Technology Investment Plan
Get expert insights, advice, and examples like those on the blog to enable you to create a technology investment plan to is approved.