Howie Fenton
|
February 20, 2017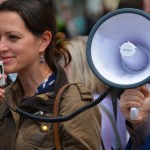 February is the In-plant Printing and Mailing Association's (IPMA's) In-Plant Awareness Month. For everyone actively working to increase their customers' awareness, congratulations. For those who don't know where to start, here are seven ideas.
Survey Customers and non-customers. Surveys can provide two functions. In our assessments of in-plants, we survey customers about product and service awareness. Why? Because in many cases awareness is their biggest problem. We might find that 75% of your customers don't know you offer direct mail, large format printing, or variable data printing. When we do this, we create a survey that can be used as a lead generation tool. Anyone that was not aware of a product or service gets a phone call from a CSR or a visit by the manager.
Be part of New Employee On-boarding. Many companies have a new staff orientation or "on-boarding process." Find the person responsible for it and ask to be included. The best case is to have all of the new people come to your building for a tour. There is no better way to be remembered than to show people what you do. 
Sell Even without a Sales Force. Just because you don't have a sales force does not mean that you can't communicate to your customers about new products or services. Your customer service staff have ongoing conversations with customers. For the best results, schedule an afternoon training session, create some talking points, and have the staff break off into small teams and practice probing questions and offering other services with one another. 
Visit Customers.  Some of the most effective awareness tools are "old school." Back in the day managers or CSRs would hand deliver work and have conversations with customers. Some of the best would plan their visits, find out other people's names on that floor or in the building and deliver personalized notepads with the person's name on top of it saying, "From the desk of____" and on the bottom saying, "From your in-plant printer." It's not a new idea, but still a good one.
Offer Shop Tours.  Another old-school idea that still works well are shop tours. World class in-plants train multiple people as tour guides, train and coach staff to make presentations in front of equipment, and then send the tour guides in different directions allowing small teams to visit each area. 
Self promote using Your Own Services.  Nothing says you know what you are doing more than using it yourself. In other words, don't just talk the talk but walk the walk. If you want to promote anything from a simple post card mailing program to an elaborate cross media campaign, do it yourself for your customers. Take your time, have it professionally edited and designed, and create a clever campaign. Once you do the first one, it will be much easier to do future ones.
Offer training programs. The programs I see getting the most attention are the, "How to avoid cost overruns" or "Update on the latest features of InDesign" type seminars. Admittedly, this can be risky when clients constantly call to ask questions about programs. On the other hand, those can become your most outspoken and loyal customers.
Check out These Other Resources
Watch this short video and listen to RSA share the "Top 10 Tips to Build a Better In-Plant."