Howie Fenton
|
February 19, 2019
This is the second article in a two-part series on creating a roadmap for 2019. In part one, we discussed the role of market and customer research in identifying new opportunities. In this article, we talk about thinking outside the box, because Apple founder Steve Jobs often said that customers don't know what they want until we show them, which meant that customers could never predict they wanted an iPod, iPad, or smartphone because they did not exist before Apple created them.
If you have never seen it before, one of the best teaching tools to illustrate thinking outside the box is the "Connect 9 dots with four lines" exercise. It helps illustrate how often we are constrained in our thinking.
Often your parent company or your customers may pigeonhole the in-plant as just offering printing or mailing services. That is dangerous because that can lead to the perception that you are out-of-touch with the digital revolution. You should be aware not only of the traditional products and services you could offer, but also the next generation value-added services.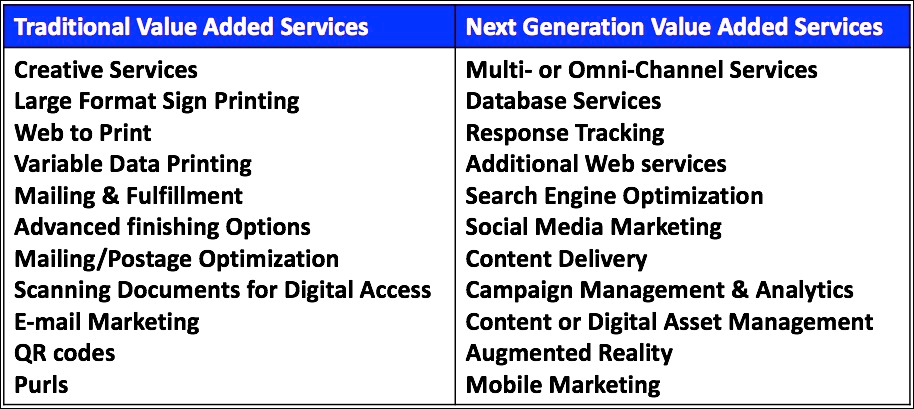 Truth be told, very few in-plants can justify offering these next generation value-added services from scratch, but they could evolve to offer these strategies by taking on an integrated services strategy or evolve into offering overnight turnaround.
You may already be positioned to offer some next generation value-added services. For example, if you offer mail merge, variable data printing (VDP), or mailing services, you have already mastered the basics of database services.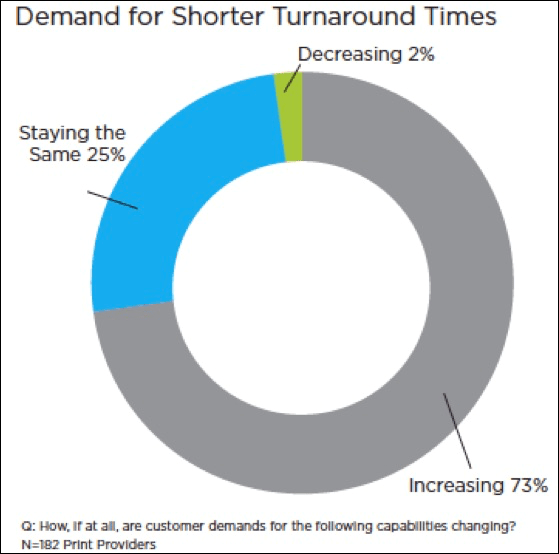 Most likely you've seen the credit card company Capital One TV ads that ask, "What's in your wallet?" Just as these commercials are effective, a question you might consider important is "How do your customers order?" In the NAPCO study, only 32% said it was from a customized web-to-print portal while 87% said they ordered by e-mail, 76% by a phone call, and 58% in face-to-face meetings.
87% – e-mail request for job quote
76% – phone call to designate a sales rep Poor customer service rep
58% – face-to-face meeting with the printing company sales rep
32% – online storefront designed specifically for customers business
18% – web-to-print interface open to general public
Why is Faster Turnaround Time Important? 
The most cited reason to outsource is price and price is often determined by turnaround time. In a recent competitive price survey that we did for a university in the Northwest, we discovered that local companies were more competitive with typical turnaround times of three days, but the university was more competitive with overnight turnaround. Ironically, this was not that difficult.
There are two components of an overnight turnaround that you need– a web-to-print system that can queue jobs that come in 24 hrs. a day and/or an early morning production person. Some web-to-print systems allow jobs to be printed after hours as long as there is paper loaded in the printer, and others will queue up the jobs for early morning printing.
This higher ed in-plant had a staff member that came in at 5AM and ran all the digital presses so that 75% of the work shipped at 8AM or 10AM, providing an overnight turnaround service. When commercial printers were asked to quote on overnight turnaround, their prices increased making the university's prices more competitive.
Integrated Services
For the last few months, we have been researching the hypothesis that integrated services will be an important strategy for in-plant service providers. This will be discussed in an upcoming whitepaper we (Howie Fenton Consulting) are writing for one of the equipment manufacturers. The idea is simple. As the market and customer demands change, the types of products and services offered must change to remain competitive. We have already seen two generations of services: traditional and value-added.
The first generation were the traditional products and services such as print and mail. Traditional applications produced included static reproduction (non-variable output) specialty work such as forms, reports, manuals, publications, reports, and other basic documents. The second generation began to offer new value-added services such as design, finishing, and large format poster printing. These value-added services were a natural extension of traditional services. We are calling the third generation of services integrated services and many are already offering them. As you consider the three different levels of integrated services you may discover you are already on this path.
Level 1 is a physical integration, which means offering all the services from one centralized location.
Level 2 is a systems integration which includes the integration of software tools such as web-to-print, Print MIS, job floor tracking, CRM, content marketing) and capabilities (multichannel communication, omni-channel marketing, etc.)
Level 3 is a strategic integration ensuring that the in-plant and parent company are aligned in terms of marketing, sales, or the customer experience goals.
Roadmap 2019: Research + Integration + Faster Turn = More Value
In the first article we discussed the importance of market research and your customer research to plan a 2019 roadmap and battle the "You are not strategically aligned" criticism and threat. Add out of the box thinking, integration and faster turnaround and you will create additional value and a road map for success.