Home /

In-Plants State of the Industry
In-Plant Print Service Providers: The State of the Industry
Industry analyst Howie Fenton discusses trends and how print leaders are evolving.
Industry consultant Howie Fenton discusses the state of the in-plant industry based on several studies and his experience. Fenton shares trends and information about how leading in-plants are evolving to thrive.
Watch the full 43-minute video to learn:
The current state of the in-plant industry
How print industry leaders are evolving to thrive
The role of non-print services
Unique value-added strategies
Challenges and opportunities
Outsourcing / facilities management threats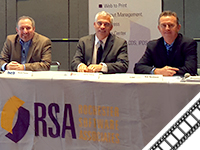 See Fenton on Web to Print Best Practices
See Fenton talk on an expert panel about Web to print best practices. Hear Fenton and the panelists discuss 42 best practices covering eight different topics.
About this Presentation
Presented At: Print 2017
Presenters: Howie Fenton (industry consultant)