Home /

Conquering the Top 8 In-Plant Challenges
In-Plant Panel: Conquering the Top 8 In-Plant Challenges
In-plant print centers in media, healthcare, insurance and higher education share how they overcome outsourcing, staying relevant, reducing costs, increasing efficiency, and communicating to management.
Get key insights from each panel member, including advice for other in-plant print centers regarding how they mitigate the outsourcing risk, stay relevant, communicate to management and more.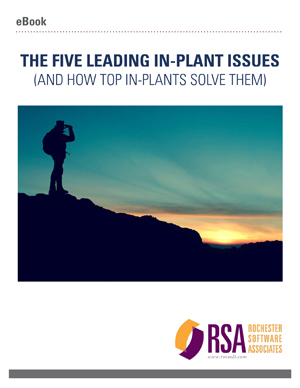 Get the The Five Leading In-plant Issues eBook
Want to learn more about how in-plants are solving the top issues? Download our free eBook about the The Five Leading In-plant Issues today.
About this Presentation
Presented At: Graph Expo 2016
Moderators: Elisha Kasinskas (Rochester Software Associates (RSA))
Panelists: Mike George (Villanova University), John Cruser (Bloomberg), Gayle Robinson (Tanner Health System), and Amy Bellows (Mutual of Omaha Insurance Company)