American Fidelity
Reaping rewards with RSA.
"
We have a lot going on but RSA has just been phenomenal. We spent a lot of time looking and I've gotten everything I thought I was going to get-and that can be rare.
Customer Background/Solution Overview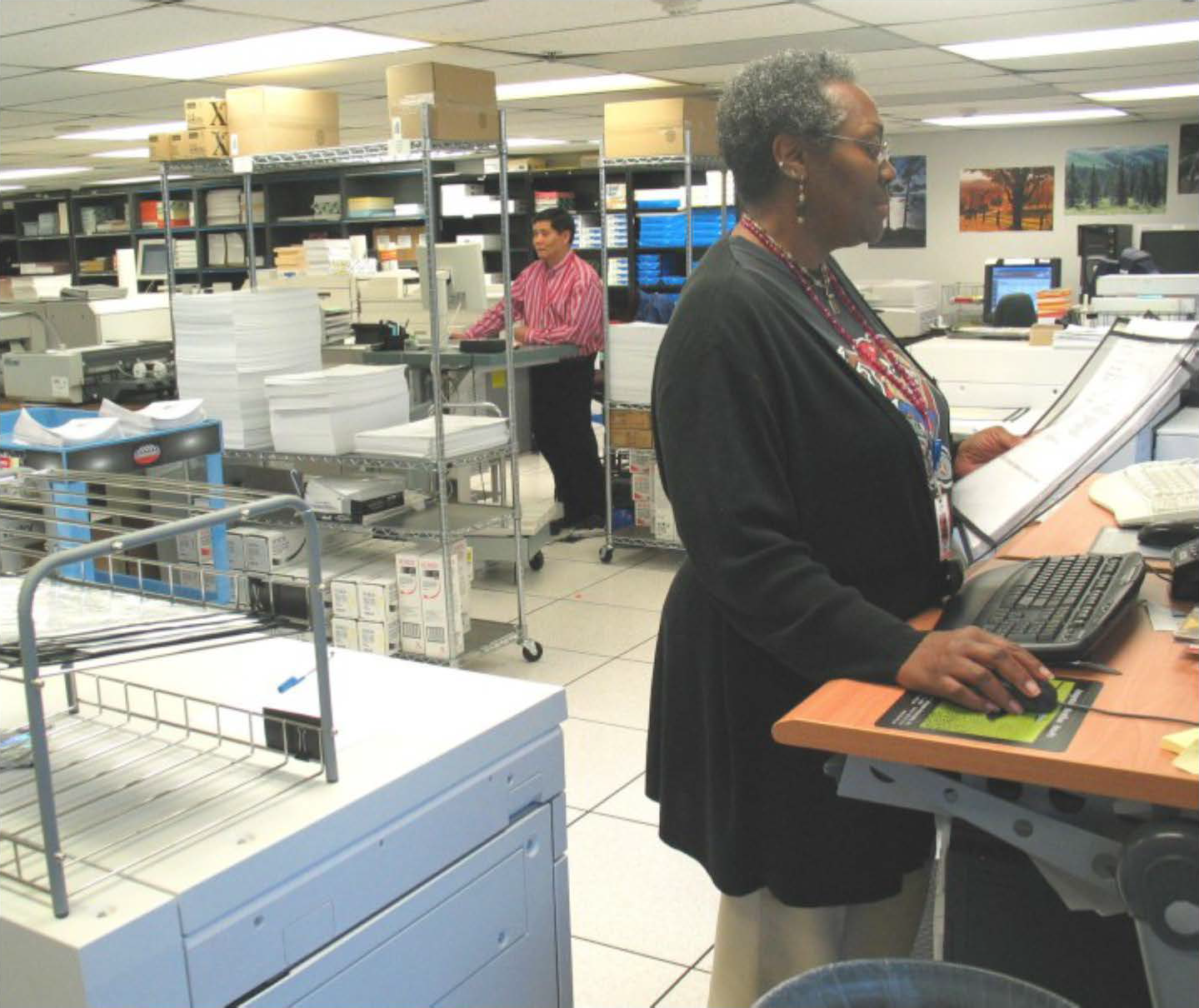 Take a wide array of print engines and front ends. Next, task them to produce thousands of forms, marketing materials, publications, and a myriad of essentials such as business cards. The end result is a set of challenges that put tremendous pressure on any kind of print shop.
At American Fidelity, an insurance company based in Oklahoma City, Oklahoma these challenges were slowing production times and increasing costs for the company and the five independent business units that fall under its banner. In addition,  there were regular production jobs using legacy data streams that needed to be produced on much of the same equipment as day-to-day on-demand documents. There were also the print management requirements for the 60+ distributed copiers and printers in Oklahoma City and in other locations across the U.S. American Fidelity needed a solution that could meet current needs and was scalable as the company grew.
"Our documents vary by state, the selling company and in some cases even the customer," explains Phil Larson, AVP, Business Development at American Fidelity. "Many of these have to meet compliance requirements and always be available in their latest form, both now and far into the future. We produce these on a variety of equipment and we  need to be sure they  will print accurately on any device."
And that's not all. The company used a mix of offset and digital printing, spreading the work  to multiple  commercial  print  shops around the country as well as handling some internally. Costs were difficult to control. Delivery times were often out of synch with demand and could be measured in weeks.
Realizing a zero-based inventory via digital printing was the best approach, Larson brought the majority of the work in-house and began a two-year search for the software tools that would relieve the simultaneous pressures of  inventory control, time, and print management.
The search identified three solutions from a single vendor, Rochester Software Associates, Inc., that could be integrated to meet his diverse set of challenges: M.I.S. Print, ODirect, and WebCRD.
Since implementation, the print shop has seen vast savings, quicker turnaround times, and an overall more efficient printing process.
Integrated solutions
"
Opening a business is more than hanging up a shingle. Opening a Portal to our Print Center was more than putting up a storefront. RSA's workflow experts worked closely with our IT department to ensure a smooth rollout.
The first solution that Larson implemented, M.I.S. Print™, was already in the shop, converting legacy LCDS jobs to Postscript output.
Next, he needed a way to manage all of the jobs flowing through his operation. He was seeing about 25 complex new on-demand orders a day in addition to the production output and office support on-demand, but knew that would rise sharply as he built his vision of a new in-house workflow. Requests are versioned, variable, and static. RSA offered ODirect™, a comprehensive print job management tool.
"QDirect has been a huge blessing," says Larson. "We have a thousand desktops and all the production servers sending in print jobs. Then there's the production loads, all the marketing requests and reprints. We had no way to manage that through one process.  ODirect lets us pull all that together in the print shop no matter where it comes from and  distributes  the Jobs to where they can be produced most efficiently."
"That's only one part of it," continues Larson. "Because ODirect and M.I.S Print are tightly integrated I can pull the data center, network and production information through ODirect, do my cost accounting, and manage it all in one place, through a single application!"
Decreasing Time to Market
"Over the past year, we have worked to use ODirect in conjunction with another RSA tool, WebCRD™, to convert a PDF repository of over 5,000 marketing and sales pieces that can be ordered on demand. We can have them ready for delivery in 24 to 48 hours. In some  cases, we've had documents pulled from the archive that previously would have taken six weeks of internal process to print, and we've had them printed and ready to ship in as little as six hours."
That kind of flexibility delivered the growth in on-demand order volume Larson anticipated. A six-
fold increase would cause problems in many shops, but the combination of WebCRD  and ODirect  enables  Larson to run all those Jobs with absolutely no increase in staff. "We want to be known as the 'GO TO' place to get personal service and professional on­ demand print."
WebCRD Dynamics™ Variable Data adds dynamic- and compliant- branch capabilities
In 2009, the firm added WebCRD Dynamics™, RSA's variable data module for creating and producing complex personalized documents with variable images and text and rule-based composition. In 2011, they began building customized sites for 26 branches. Each branch has its own site with their specific look, feel, text, and catalog of business cards (now printed two days faster for every order!), state-varied materials, static materials, and variable templates for branch campaigns. Each branch can order templates for events that they customize with information from their branch, including: products being promoted, agent and event information, and recipients from the branch address book. The branches can even order posters and buck slips for the events.
It's the team!
"Every advance has come from our team working face up with the customer," asserts Larson, praising his talented team. "The RSA suite is the right tool set to assist an excellent team."
Next on the agenda? Extend full services through all business units and outside the company. "The way the solutions are integrated will let us have the 70,000+ documents we need in our archive, with all the complexity and associated workload-still without any additional staff."
Easy Customization
RSA's modular architecture provided the structure Larson needed without requiring much customization, separating it from other vendors. "Even though I have multiple businesses and customers who change the ways they do things, I can turn features on and off so it looks as if it is customized but without having to do a lot of extra work. RSA's solution handles all of my needs."
Technical skill and service were the final elements in Larson's decision. "RSA had the technical acumen and a long term history. This was key, since I wanted someone who will be here 10 years from now."
"We're complicated," he concludes. "We have a lot going on, but RSA has Just been phenomenal. We spent a lot of time looking and I've gotten everything I thought I was going to get-and that can be rare."
© 2011 Rochester Software Associates , Inc . All brands and product names are registered trademarks of their respective companies. 07/2011
Study Quick-Look:
Solutions Used by Customer
Challenges
No process for on-demand printing
Thousands of forms, marketing materials and publications
Needed to control cost and reduce slow turnaround times
Statistics
Volume:
Orders 40 - 400 Daily
Average Job Size:
250 Items
2nd Largest Family-Owned Insurer in the U.S.
$750 Million Premium Organization
Solutions
Phase 1: M.I.S. PrintM- Converts legacy LCDS jobs to PostScript output
Phase 2: ODirect™- Comprehensive print job manager for accounting for, controlling, and routing jobs across an enterprise
Phase 3: WebCRD™ and WebCRD Dynamics™ - Web-to-Print and VDP
Results
99% reduction in on-hand inventory
WebCRD drove 40% color growth
Increased print volume 1200%
Saved over $1 million in on-going replenishment
45% reduction in production costs
Six-fold increase in on-demand order volume, up to 300 orders per week, without adding staff