Lisa Weber
|
September 20, 2018
Forecast calls for a Bright Future in Production Print Software
Recently, Keypoint Intelligence | InfoTrends released its latest production print workflow software market forecast, "North American Production Software Investment Outlook: 2018." The research predicts that global and North American revenue will grow in multiple sectors over the next five years. A lot of this growth is fueled by the demand for more customization, automation, and open and scalable solutions.
The results should come as good news for dealers who are already playing in the production print software arena and should be encouraging to those who are on the fence.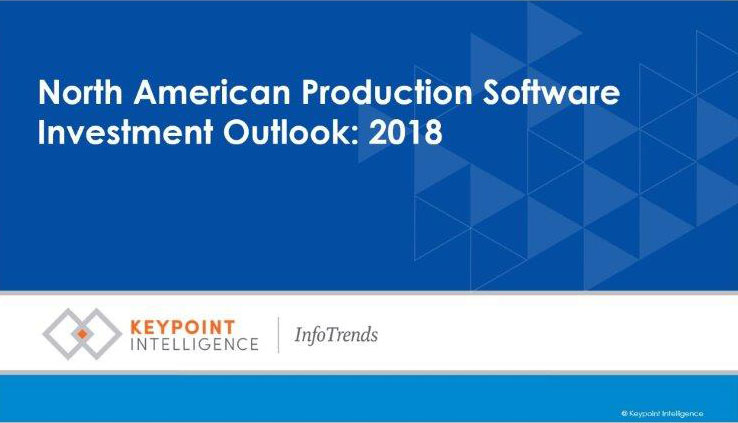 By the numbers
The research firm predicts that the production print workflow market will see some major growth over the next five years, fueled mostly by the need for mass customization and Smart Print Manufacturing (SPM). Globally, the production print workflow market, which was valued at $3.677 billion in 2017, will grow at a CAGR of 7.3 percent to $5.23 billion by 2022. Zeroing in on North America, the $1.476 billion market is expected to ride a 6.8 percent CAGR all the way to $2.046 billion by 2022, which will account for nearly half of the global marketplace.
Parsing the data by sectors, dealers should keep an eye the Online Design Tools (ODT), Variable Data Printing (VDP), Workflow Management, and Web to Print (W2P) segments, which are predicted to experience good growth in the next five years. InfoTrends expects ODTs to grow from $78 million in 2017 to $166 million in 2022, the fastest of all segments. And as PSPs deploy VDP in new areas, like packaging, signs, graphics and e-delivery communications processes, revenues in 2022 are expected to reach $2.5 million. Workflow management and W2P revenues are expected to reach $1.2 billion and $610 million respectively.
A closer look at Web to Print
While lucrative, the Web to print market is slowing down. To combat this, Web to Print developers are extending their software capabilities and services in several directions. Specifically, developers are focusing on integrating their Web to Print solutions with ODTs and adding design template libraries. Developers also want to fold print MIS functionality such as estimating, quoting and ticketing functionality into their Web to Print solutions. Taking a page from the VDP playbook, developers are creating products that can work in new segments, like direct-to-garment, textiles, and packaging.
Research Recommendations
The folks at Keypoint Intelligence | InfoTrends have some advice for dealers. Noting the maturity of the production print software industry, the research firm suggested that software vendors take a long and hard look at their current portfolio. In particular, dealers should be critical of UI, integration capabilities, and differentiators. Dealers should also take every opportunity to educate clients and audit their deployments throughout their entire relationship. In addition to snagging more face time with customers and strengthening relationships, dealers can direct conversations towards needed features, which can result in more sales.
The company also stressed the importance of data analysis, automation and APIs/SDKs. According to InfoTrends, "the days of end-to-end, bloated solutions for a single vendor are over," and "frameworks and platforms are the future of software." This makes it important for dealers to do the heavy lifting now, so they are ready to expand their presence in existing accounts with complementary solutions that offer frameworks in the future. Dealers should also focus on providing automation solutions, since customers cannot keep up with the demand for mass customization without it. Automation pairs nicely with data analysis tools, which can help clients find and correct inefficiencies that would otherwise go undetected by the naked eye.
Solving Problems with RSA's Production Print Software
The only way that PSPs can keep up with today's increasing demand for customization is with Web to print, VDP, ODT, and workflow automation solutions. However, PSPs can no longer afford to rely on monolithic production print software platforms that support a narrow range of print technology, and instead require "skinny software with wide doors."
With RSA's portfolio of production print software solutions, dealers have a complete set of tools that can solve all their PSP-customer's biggest problems. For example, RSA's solutions can be used together, so PSPs can handle everything from web-based job creation/submission and workflow management to print MIS and VDP capabilities. And unlike some production print software developers, the company offers extensive training, support, and professional services, which can help dealers maintain a long and happy relationship with customers.
Contact your RSA BDM to develop a strategy to take advantage of these trends in your area.