Elisha Kasinskas
|
May 31, 2016
Life is certainly brighter for Sun Life Print Services as the in-plant has evolved its Web to print solution over the last four years. In this June 15th 2pm EDT  In-plant Graphics webinar sponsored by RSA, you'll learn how this multi-location financial services in-plant leverages technology, continually adding to its solution to reap benefits for its customers and deliver services, capabilities and savings that are only possible with Web to print.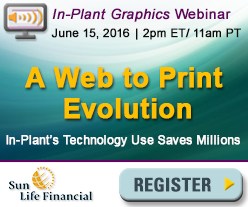 Create service offerings that give sales back time- the equivalent time of 5.6 sales reps/year
Help save the corporation millions
Save 1/2 of a headcount every year by removing touches and automating processes
Cut business card costs by 60% and slash turnaround by 86%
Increase relevancy of the print center and gain executive-level exposure, re-positioning the in-plant operation as an essential service
Register for the June 15th webinar and receive exclusive In-plant Graphics in-plant research and a Sun Life case study.
About Sun Life Financial and the Presenters
Sun Life Financial's document services group operates from three locations, producing nine million Web to print impressions annually with a staff of just 14. The in-plant has increased automation without adding staff by employing additional modules, APIs and custom software and added new services to meet customer needs while simplifying work and increasing efficiencies for the print center and its customers. Presenters are:
In-plant Graphics Editor Bob Neubauer- presenter and moderator
Lance McGinnis, Director, Administrative Services, who oversees a multi-national team of over 80
Craig Allen, Print Services Senior Application Specialist, responsible for Web to print administration, variable data programming and more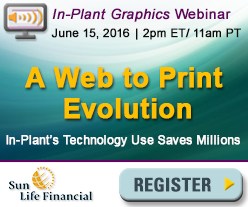 Register Now Even if You Can't Attend
Can't make it on June 15th at 2pm EDT? No problem! In-plant Graphics webinars are archived after the live event. Register for both live and on-demand access.