Rochester, NY
|
October 19, 2022
Rochester Software Associates (RSA), provider of production print workflow software solutions for in-plant print centers, commercial printers, and PSPs announces the latest version of QDirect™ output management software. Attendees of the PRINTING United Expo being held at the Las Vegas Convention Center on October 19-21, will be the first to see the new release as part of RSA's rewards of workflow automation showcase in booth N631.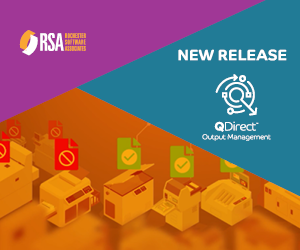 In addition to QDirect output management's abilities to control, automate workflow, route, and manage production print output, any print facility with multiple production printers can increase efficiency and equipment utilization, and reduce costs with the new QDirect software release. Available soon, the latest release offers these automation "rewards":
Ensure optimal productivity

and increase efficiency

by using the

new destination cluster feature

,

a group of printers that QDirect manages as a virtual single device

.

 

Increase throughput with new

printer group "cluster" printing and automated job routing and splitting to the best device for the job

.

Further

o

ptimize

p

rinter

u

tilization

and

reduce

costs

by

l

oad

b

alancing

or

j

ob

s

plitting

by quantity, pages

, or color

splitting pages

to

p

rinter

g

roups

.
Product Manager, Anthony Leccese stated, "With an increasing emphasis on optimizing resources, reducing costs, and increasing efficiency, this new release offers functionality previously only available on a custom basis to print shops of all kinds. Any print operation with multiple production printers can fully harness their print devices with new printer group capabilities and experience the rewards that workflow automation provides."
Learn more about how QDirect "cracks the code" to productivity at: https://bit.ly/3f5naVO. Schedule a meeting with RSA today to learn more and request a demonstration.
RSA's workflow solutions are available through RSA's partners, including Canon, Kodak, Konica Minolta, Ricoh, Sharp, Toshiba, and Xerox. For more information, visit RSA at https://www.rocsoft.com. 
###
About RSA  
Rochester Software Associates (RSA) is the only company in the industry to provide prepress, transform, output management, and Web to Print software solutions to support digital production print workflows. For over 30 years, our customers have used RSA solutions to turn printing into productivity™, automating their print centers and seamlessly converging printing from the data center, in-plant, and distributed enterprise print environments.   
Products like WebCRD™, the leading Web to print software provider for in-plants, QDirect™ Output Manager, and ReadyPrint™ prepress software maximize employee productivity and corporate profitability, boost operating efficiency, increase print volume without increasing staff, and delight customers with better turnaround times and 24/7 access. 
For more information, visit https://www.rocsoft.com.
©2022 Rochester Software Associates, Inc. WebCRD, QDirect, ReadyPrint, ImpactVDP, Customer Success Assurance and Turn Printing into Productivity are trademarks of RSA.