Howie Fenton
|
June 01, 2015

Benchmarking within state and local governments is a hot topic. In fact, within some organizations, your ability to receive on-going funding could be tied to your ability to prove your facility's effectiveness. How would your in-plant fare if your funding depended on how well your performance compared with other in-plants?
Worst-Case Scenario
A few years ago, we were invited to the State of Washington to review an analysis conducted by a local consultant who did not understand the difference between 2-up sheets and letter sized pages. The report, "District Operational Review," concluded: "When comparing this department with other comparable districts, they are on the high side both in staffing and volume of product (impressions). When you compare the amount of product (impressions) produced per worker they fall below others." The recommendations included "assessed staffing levels compared to the needed level of service to determine if any changes can be made" and "conduct a non-biased evaluation process of going automated with their work order and billing processes." Once the data was transformed into comparable data, the low performer was actually transformed into the best performer based on the number of jobs / employee and the number of jobs / staff. This school district was lucky that they requested a second opinion because most executives responsible for in-plants do not.
Best-Case Scenario
In contrast, Jason Gillam, the assistant director of business operations at the Blue Valley School District in Overland Park, Kansas, has been actively monitoring his productivity for the last 7 years and has proven their in-plant's ability to increase productivity. The Blue Valley School District is a system of 34 schools and over 3,250 staff, which serves more than 22,000 students. An internal evaluation uncovered many issues and opportunities for improvement in their workflow. The goal was to address those issues and just as importantly, provide measurements of success.
Most of the schools have a "printer or work room" with printers and copiers. Problems in submitting files due to turnaround issues and file issues resulted in the teachers spending 20 minutes to an hour in the print room every day. One goal was to reduce the amount of time teachers spent in the print room, improve turnaround time and eliminate the additional costs associated with printing on multi-function devices as opposed to production devices.
Gillam realized that his production department had reached its capacity based on the workflow and staff. One of the main bottlenecks was the number of jobs that could be entered and worked on in any given day. Another goal was to automate job submission, reduce the burden of monitoring the print queue, and increase the number of pages printed by the printing staff.
Blue Valley invested in software from RSA to help achieve these objectives. WebCRD allowed teachers to print directly from their computers without spending time in the print room. QDirect output manager eliminated the time required to look at jobs and determine which print device to send them to. The flood control feature of QDirect overcame an issue in overwhelming the print queue for one of their production devices.
The result of this investment and software automation was an increase in productivity from 10,000 to more than 130,000 orders a year. Turnaround time was reduced from two to three days per order to next day for about 70 percent of the orders received. Most teachers don't have to spend time in the print room anymore and can spend more time with students. The amount of pages printed on the multi-function devices has shifted from 75 percent to 40 percent of print volume.
One of the most impressive metrics is that order volume has increased nearly 1,300 percent in 7 years— without adding staff. Chargebacks have been reduced by $100,000. Teachers save almost 50,000 hours a year.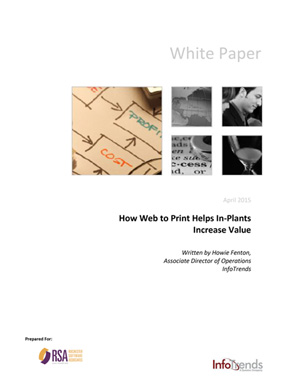 Want to learn how you can Prove Your Value?