Rochester, NY
|
September 15, 2015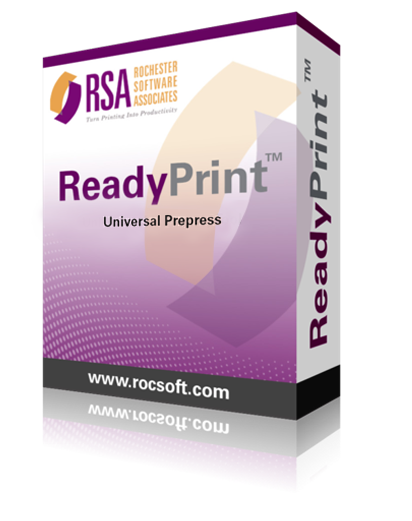 Rochester Software Associates (RSA), provider of production print workflow software solutions for in-plants and corporate print centers, will debut and demonstrate its new Universal Make Ready tool, ReadyPrint™ in booth 231 at Graph Expo in Chicago, September 13-16, 2015. 
ReadyPrint is a simple to use prepress solution that simplifies and automates workflows by enabling commercial printers and in-plants to use one tool for the entire shop to easily modify and enhance customer print requests. ReadyPrint sends jobs directly to production printers- with ticketing- even in multivendor environments.

ReadyPrint includes all of the functionality of industry-leading make ready software, offering:
Maximum return and minimum investment by using one make ready tool for every production device
Operators the ability to choose the "best" printer for the job with a single application
Simplified training by using one make ready tool for an entire print shop
Anthony Leccese, Product Manager, Rochester Software Associates, said, "We saw a market need for a full-featured make ready tool that can be used universally for every production device in a print operation. Powered by RSA's AnyPrint™ technology, ReadyPrint works across all production device platforms, including ticketing direct to multi-vendor production printers." A higher education beta customer commented, "We have found ReadyPrint easy to navigate with an intuitive design that will simplify and streamline make-ready."
ReadyPrint will also be shown in Ricoh booth 1231.
RSA's workflow solutions are available through RSA's partners and directly from RSA. For more information, visit RSA at www.rocsoft.com.
©2015 Rochester Software Associates, Inc. WebCRD, QDirect, Intelligent Document Setup, Customer Success Assurance and Turn Printing into Productivity are trademarks of RSA. All other referenced trademarks are property of their respective owners.