Rochester, NY
|
September 29, 2014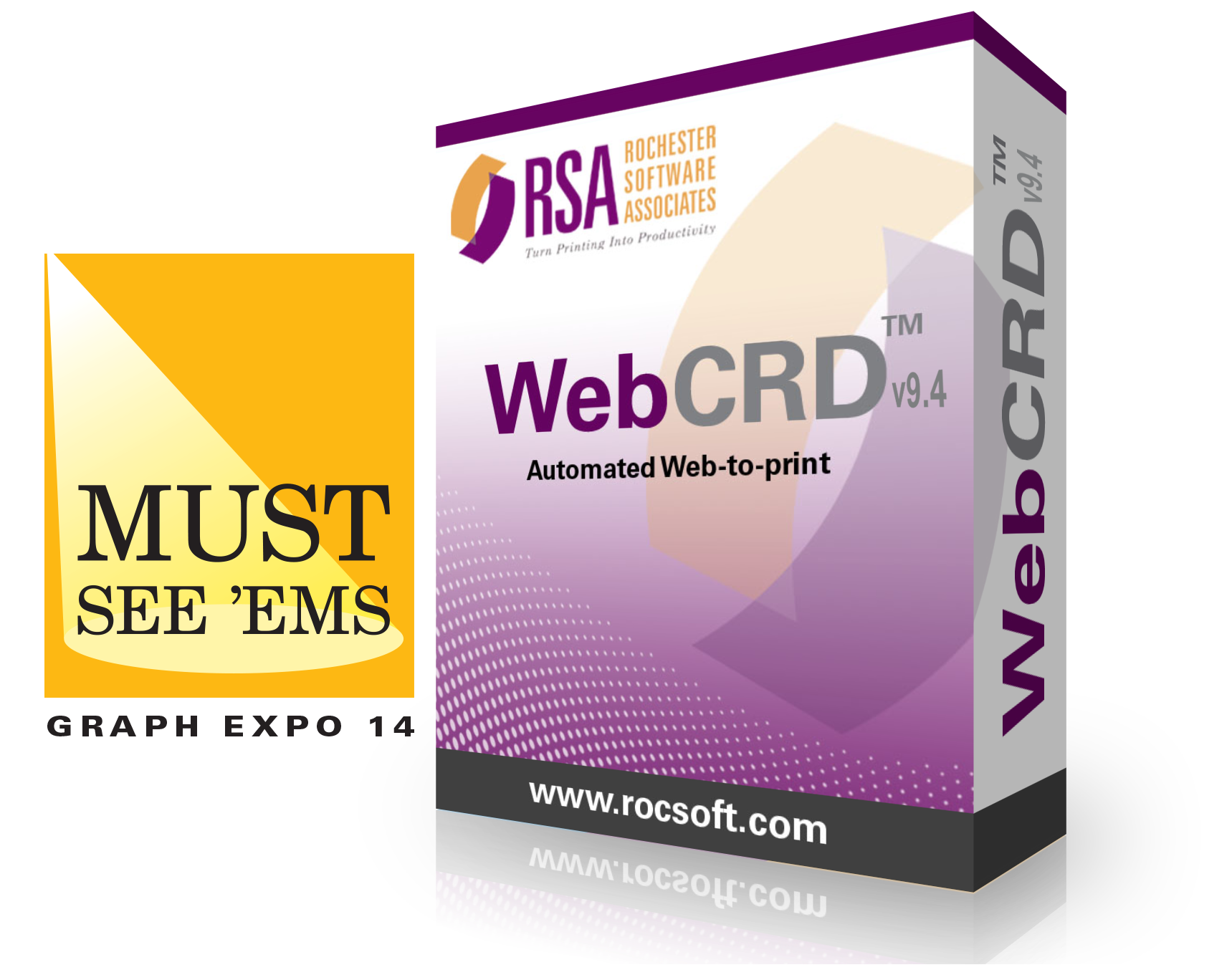 Rochester Software Associates (RSA), provider of production print workflow software solutions for in-plants and corporate print centers will demonstrate Must See 'Em Award winner WebCRD™ 9.4, web to print software for in-plant print centers in booth 231 at Graph Expo in Chicago, Chicago September 28- October 1, 2014.  Additionally, RSA will host their annual WebCRD User Group meeting at the show.
Available for orders now, WebCRD's enhancements reduce errors and the time it takes users to configure and order documents, reduces touches and simplifies workflows; further automates print production; and increases customer satisfaction.  Features include: exclusive Intelligent Document Setup™ that makes decisions for users automatically setting print options and other items; expanded workflow automation with sophisticated back-end production features; expanded integrations, including eProcurement providers such as Ariba®, Oracle and SciQuest to streamline accounting capture and print purchasing and approval processes; and automatic job ticketing for any production printer with native commands or JDF, including Fiery® Central.
The WebCRD User Group will be co-located at Graph Expo on Tuesday, September 30, 2014.  Open to all WebCRD customers and in-plant managers, the event is designed for users to get the most out of their WebCRD-driven in-plant print workflow.  Customer American Fidelity Assurance will present their workflow.  The session is complimentary, but advance registration is required.
Vince Tutino, Senior Product Manager, Rochester Software Associates, stated, "As the only product developed specifically for in-plants, RSA understands their unique emphasis on efficiency improvements, cost reduction, and working with repeat users/customers. Beta customers have been delighted with the results, and existing customers are excited about the impact the new features will have on their operations."
The software will also be shown in Ricoh booth 1931.
RSA's workflow solutions are available through RSA's partners and directly from RSA. For more information, visit RSA at www.rocsoft.com.
©2014 Rochester Software Associates, Inc. WebCRD, QDirect, Intelligent Document Setup, Customer Success Assurance and Turn Printing into Productivity are trademarks of RSA. All other referenced trademarks are property of their respective owners.