Rochester, NY
|
October 04, 2012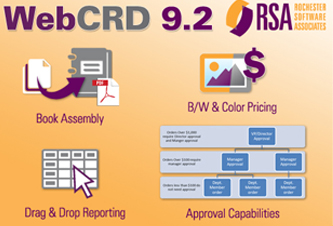 Rochester Software Associates (RSA), provider of production print workflow software solutions for in-plants and corporate print centers will be demonstrating a new release of WebCRD™ web to print software  for in-plants in booth 237 at Graph Expo in Chicago, October 7-10, 2012.  Additionally, RSA will host the WebCRD User Group meeting at the show.
Available for orders now and shipping in Q4, WebCRD V9.2 has new and enhanced functionality including: book assembly, automated B/W and color pricing in the same job, Print MIS invoicing to bill external customers, new user-defined drag and drop configuration reporting, font pre-flighting, enhanced approval capabilities for department and multiple approvals, and integration with the latest versions of leading VDP software.
The WebCRD User's Group will be co-located at Graph Expo on Monday, October 8, 2012.  Open to all WebCRD customers, in-plant managers and partners, the event is designed for users to get the most out of their WebCRD-driven in-plant print workflow. The sessions are complimentary, but advance registration is required.
Vince Tutino, Senior Product Manager, Rochester Software Associates, stated, "We continue to add features and  improve functionality of WebCRD based on customer and market feedback to help customers increase productivity and increase end-user customer satisfaction."
The software will be shown in RSA's booth 237, in Xerox booth number 1200 and in the Ricoh booth, 2600.
RSA's workflow solutions are available through RSA's partners and directly from RSA. For more information, visit RSA at www.rocsoft.com.
©2012 Rochester Software Associates, Inc. WebCRD, Customer Success Assurance and Turn Printing into Productivity are trademarks of RSA. All other referenced trademarks are property of their respective owners.