Rochester, NY
|
November 03, 2011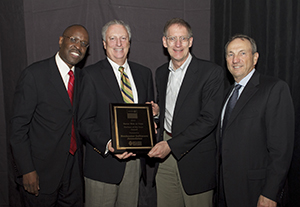 Rochester Software Associates (RSA), provider of production print workflow software solutions for in-plants and corporate print centers, is pleased to announce that for a record 12th year we have won a Xerox Corporation Partner of the Year award. The prestigious award was a result of Rochester Software Associates actively participating in on-going product development via the Xerox SDK program, achieving revenue growth of 40% over the prior year, and providing excellent support to Xerox field sales/analyst personnel and end-user customers.
This year's award is the 2010 Web-to-Print Partner of the Year award for WebCRD™, the firm's flagship web-to-print product.  Xerox works with more than 100 industry-leading software and hardware providers through the Xerox Business Innovation Partner Program to create integrated solutions that extend the capabilities of Xerox products and services. Xerox's Global Business Group, responsible for managing the Xerox business partner portfolio of document solutions, software and systems, recognized  partners for superior digital workflow software and finishing solutions.
Tim Kelly, SVP, stated, "The web-to-print partner of the year award validates the value that our solution has delivered for Xerox and our joint customers. Our unique in-house installation and after-sale support Customer Success Assurance™ model provides successful installations that enable our customers to turn printing into productivity™. With WebCRD, customers increase efficiency and volume without adding staff, and delight their customers with easy 24 hour access and faster turnaround times."
WebCRD is the leading web-to print solution designed for corporate in-plants. It automates print centers in all industries, including education, healthcare, insurance, finance, manufacturing and government.
RSA's workflow solutions are available through RSA's partners and directly from RSA. For more information, visit RSA at www.rocsoft.com.
©2011 Rochester Software Associates, Inc. WebCRD, Customer Success Assurance and Turn Printing into Productivity are trademarks of RSA.