Elisha Kasinskas
|
July 07, 2014
When you think about technology advances, you usually picture the latest hardware, interfaces and protocols. However, with so much history and information tied up as legacy data on mainframes, sometimes the most valuable advances come with being able to take that old data and send it where it needs to be output today. At Rochester Software Associates (RSA), we've combined our M.I.S. Print data transformation software with our output management solution, QDirect for clients facing output and workflow challenges. In part one of this series, we'll show you how a Department of Motor Vehicles (DMV) has benefited. In part two next week, we'll discuss an example with a major insurance firm.
A Department of Motor Vehicles Manages Multiple Inputs & Outputs with Ease
Our client, a Northeastern DMV in the United States, prints tens of thousands of pages each day between registrations, renewals, violations and notices. They were printing directly from their mainframe to a cut-sheet printer, but the department upgraded to new printers that couldn't receive the old data in the same way.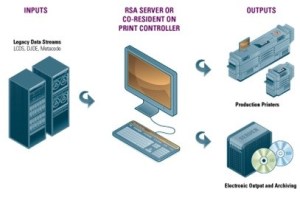 Soon, QDirect and M.I.S. Print running in tandem were able to replace the legacy system, allowing the new printers to connect directly to the department's mainframe. M.I.S. Print transforms the LCDS, DJDE and Metacode data from the mainframe, then QDirect directs that data to either the new or old printers in this multivendor, multi-application environment.
Another key piece of capability was added for the DMV at the same time—they can now print directly to printers plus generate PDFs for archiving, viewing and reprinting purposes. The next scheduled enhancement will add job ticketing to these PDFs so jobs will automatically print on the correct stock (e.g., ID cards on heavy stock, notices on regular stock, etc.) without operator intervention.
Wherever Information Comes from, Wherever It Needs to Go; That's Innovation.
Data can come from the mainframe or network servers and print wherever necessary. Organizations get the advantage of using optimal available resources while retiring unsupported software and equipment. All of this can be managed in a way that drives ease and efficiency.
Have Multiple Printers, Multiple Job Sources or Print Large Volumes?
If you have multiple printers, multiple job sources or print large volumes, watch the QDirect overview to see how to gain control of your print center to get "out with the new and in with the old." And don't forget to stop back next week to learn how a major insurer is innovating their printing.