Howie Fenton
|
March 13, 2020
Preparing to Return to Work
It does not matter if your in-plant has remained open during the pandemic or if you are waiting to return, everyone will have to adjust their physical space and workflow for 12-18 months until a vaccine is released. As I write this, meat packaging plants around the country are becoming COVID-19 hot spots because staff work shoulder to shoulder, which is the same as many manual workflows for finishing and inserting. That is just one of many workflow challenges in-plants must face during the pandemic.
If you shop at grocery stores or pharmacies, you may have already noticed the clear plastic barriers at some registers. Any print or mail workflow requiring staff to stand within six feet of each other will require similar barriers. Fortunately, in-plants offering large format services may be able to create these barriers for both print shop and other areas within the company.
The physical distancing and plastic barriers between staff may be the easier changes we will face when we return to work. The tougher challenges involve the digital workflow.
Working Remotely
Some workflow tasks are easier to perform remotely than others. For example, creating estimates, preflighting / repairing files, and building imposed files should be easy if you log into your software remotely.
What will you do if customers still need print and mail services and you are working with a skeleton staff? Several software manufacturers, including RSA, have worked with customers to show them how to take advantage of their software's features to work remotely.
If you log into the system you can download files, preflight and repair them and then upload the corrected file. If there is someone on-site who can add paper and remove printed files, you can then send these files to a printer. If you don't have staff on-site, you can send the files to an FTP site, remote print queue or send the specifications out to bid, through software such as P3Source, P3Software's sourced production management solution.
Preparing For a Recession
The extended shutdown will have a significant impact on all business, but some will be impacted more than others. According to Yahoo Finance and Moody's Analytics, states such as New York, Florida, and Washington will be hardest hit but all states will be impacted.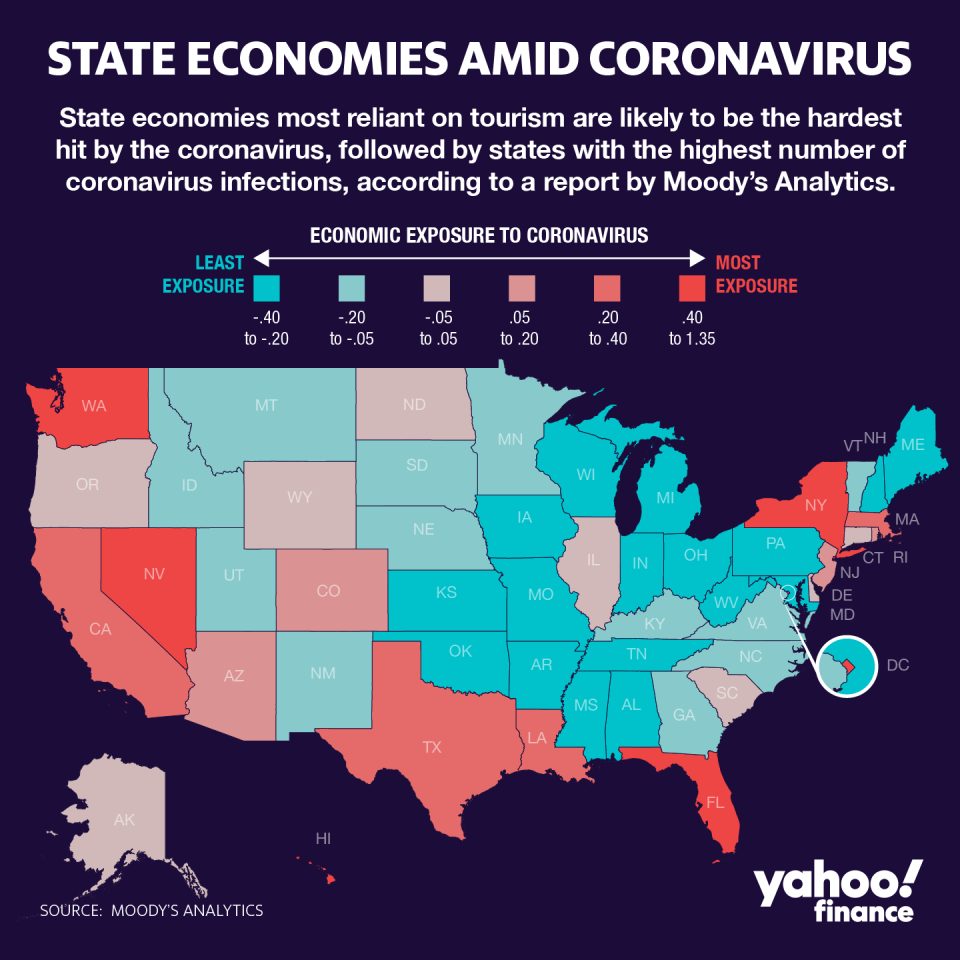 Paradoxically, even though the likelihood of a recession is very high, some in-plants are insanely busy. There are stories in In-Plant Impressions that some states and local government printers and some school districts are overwhelmed by work.
The greatest irony, however, is that for those in-plants that are busy or those that will likely see declines, the best solutions are workflow related.
The automation that will benefit you the most will depend on your bottleneck. Is your bottleneck in estimating, order entry, prepress, press, finishing, inserting, or mailing? If your bottleneck is in the early steps (estimating, order entry, prepress), you should consider new Web to print, Print MIS, or PDF workflow software. If your bottleneck is late (press, finishing, inserting or mailing), you should consider new hardware.
If there is a significant loss in volume, staff cuts may be mandated. You should consider who you might lose, the gaps that would be created by their loss, who would likely have to take up the slack, and begin a cross training program to get prepared for those cuts.
Contact RSA Today
Contact RSA or me to discuss further how to change your workflow to prepare for post-COVID-19.