Elisha Kasinskas
|
February 01, 2016
Follow These Four Tips and Make the Effort, You'll Enjoy the Payoff
Outside of your staff morale, it's hard to think of an area more impactful on your operation than great customer relations. What does it take to secure existing orders; gain back lost work, and obtain new jobs? People order from people. They can justify the price they pay if they receive ideas, real solutions to their problems, and you give them back time.
Read on to get your four tips to pave the path to better client interactions. Want additional in-plant insights to build a better in-plant today? Sign up for our Quarterly Tips Newsletter.
4 Tips to Better Client Interactions
1. Be Business Easy Online ordering is not a fad, it is a requirement. Did you ever think the Marketing department has enormous deadlines and work overload? They are just like you. Give them back time with their family and they will love you. What does this VP of Marketing stress over? "If I can order my materials from you online, I can get to it in the evening or over the weekend. Making my 60-hour work week easier would be really appreciated. Sometimes Sunday afternoon is the only time I can get to do this."
2. Be Information and Education Inventive Open multiple interactive paths that enable customers to come to you for help. At a luncheon for some 50 CXOs from multiple companies the in-plant used personalization approaches. It cost precious little for such good will. The president was amazed and happy that his team received a VIP touch by an "internal" team. Overheard in an elevator from the Executive Assistant to the CEO: "You know I'm constantly planning events. I wish someone would bring to the table neat ideas or 'best practices' for the annual company community fund raiser. Why wouldn't Jim (the in-plant manager) want me to be aware of new offerings? I hear that they are doing some stuff with personalizing invitations by industry type. I would certainly be in favor of anything that makes us all look good!"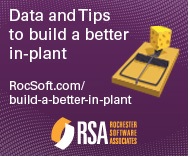 3. Be Voice of Customer Sensitive Listen to the way people use your products before you recommend improvements. Beyond surveys, schedule regular meetings, or consider establishing User Groups like RSA has done. Recommend improvements that meet the end need of the item. A recent group converted to digital linen for their business card. Giving their customers a tactile impression when receiving the business card was important to the CEO. But getting business cards with fast turnaround was important, too. So the right paper for the right machine with the right online access to order became the key to delight. A frustrated HR Director called the in-plant and said: "It would be great if you could show me ideas about how we can make the different levels of company executives stand out. Everything can't be plain. I'm always looking for ways that executive management can have a little more 'white glove treatment'. I'm all ears for any suggestions."
4. Be the Solution Find pain and apply medicine. Approvals from three areas took days to get a simple piece ordered. The team worked with RSA to engage digital approval from the auditing department. Bingo! Six days moved to sixty minutes. Big pain became BIG SMILES. Leaning over the desk with blazing eyes, the Manager of Compliance spoke deliberately: "I have no objections (yet) if you have a way to speed up a process for one department or another. However, it's MY JOB to make sure that we do nothing to increase our risk of exposure. There are many layers within the organization we both work with... so if you have ideas run it by them. Maybe there is a way to streamline one of the recurring requisitions we see..." Enabling smooth customer communications can be complicated, but if you follow these four tips and make the effort, you'll enjoy the payoff. Already practicing one of these approaches? Let me know how it's working for you.