Howie Fenton
|
January 10, 2023
All indications suggest that 2023 will be a different year because the trends and pace of changes have accelerated. Most in-plant print centers have been struggling with challenges for the last few years, including issues with demand, supply chain, availability of production staff, reductions of in-office staff, and outsourcing concerns. These issues alone would be challenging, but the combination will create "perfect storms." This blog post will discuss changes and strategies to reduce the impact of the challenges these trends create.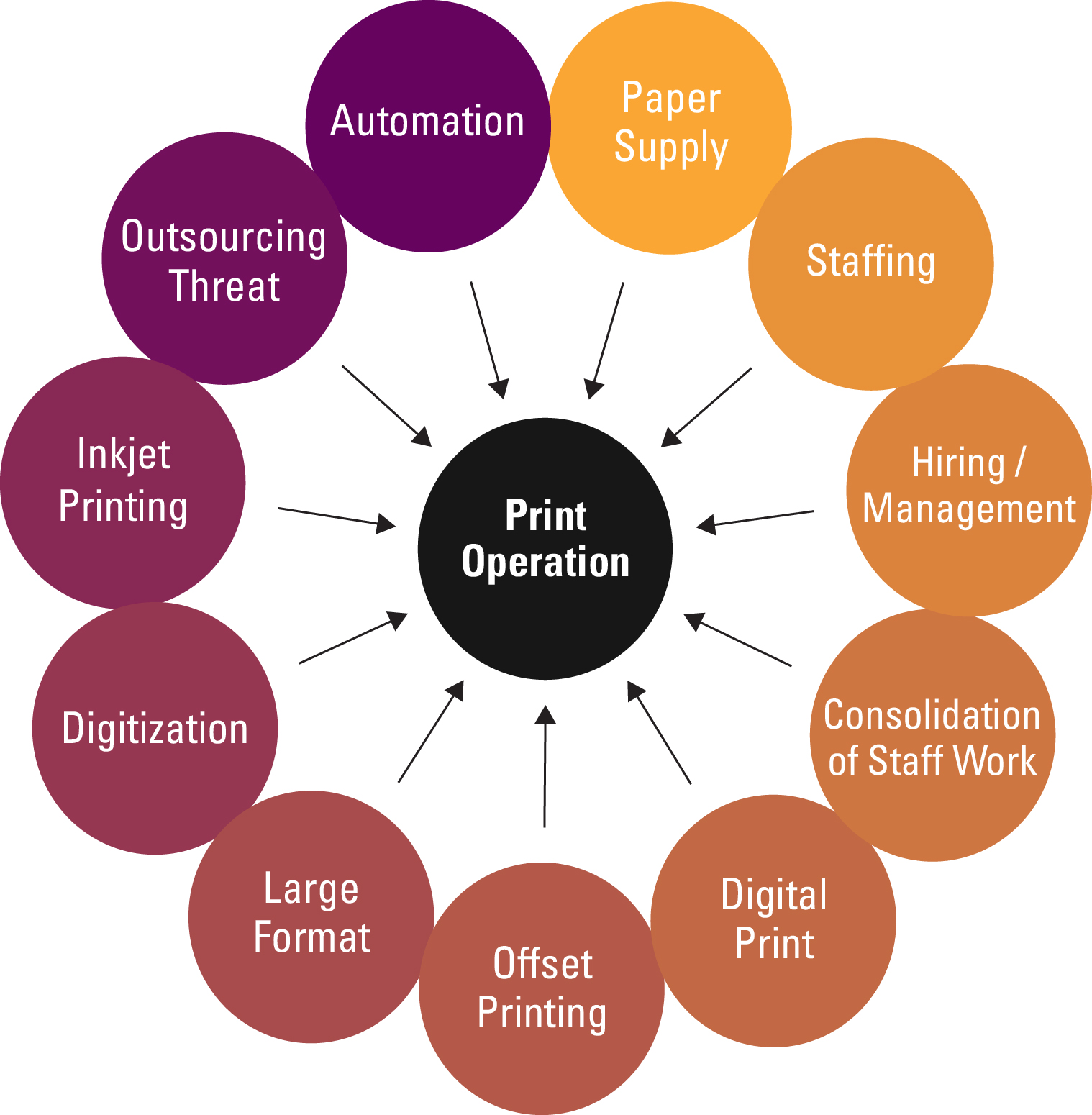 Predictions of How Print Industry Trends Will Impact Print Centers
Paper issues will continue, but the magnitude will decline. Most in-plants we work with have said that the peak issues with paper shortages have already passed. A

December 2022 article

found that paper demand had slowed, and paper availability was starting to approach pre-pandemic levels. We predict that paper issues will continue into the year's first half and then decline.

Staffing issues will continue, but mitigation solutions will reduce the impact. Companies have been struggling with staff shortages for the last couple of years. Many have used trial and error to replace staff. Some have hired nontraditional candidates and focused on diversity, equity, and inclusion (DEI) efforts with staff with little or no formal training. This has worked well when combined with automation, cross-training, and using workflow software.



Gen Z

staff will

change

hiring and management strategies.

According to a Garter article

,

9 Future of Work Trends For 2023

,

t

he

pandemic

significantly impacted

Gen Z's

.

As a result

,

they

are now

more motivated

to consider jobs

but less skilled

than

previous generations.

Many are willing to accept jobs if

they

receive

training

that

prepares

them for a new career.

However, retaining

Gen Z staff will

require different

management styles

because t

hey

need

more

time,

support

,

and encouragement.



Consolidation of design,

prepress

,

and

web services

staff

is

increasing

.

For the last few years

,

in-plant managers have talked about the difficulty

of

cost-justifying

design services, especially when other departments offer the same service.

But design services have been evolving for years

,

and

few other departments have kept up with the new skill

sets required.

Leading in-plants use designers for many tasks.

They

can be used to customize e-commerce sites, provide

large format

designs

,

and

soc

i

al media sites.

Good designers can help with

preflight

, file correction,

and

monitoring

for brand consistency.

With

cross-training,

it is

more accessible

to

cost-justify

good designers.


The digital print volume will increase and plateau to a new normal as staff return. During the pandemic, parent company staff were sent home. Many of these staff were buyers or consumers of print and mail services, and some found alternative methods to achieve their goals. Today most companies are looking to find a balance between working from home and coming into the office. This increase in on-site staff will increase print demand.


Offset printing will continue to decline. While offset remains the dominant production print technology, every day it gets more challenging to "feed the beast' or cost justify the investment. Offset demand has been declining due to shorter runs and the cost-effectiveness of digital printing. The availability of inkjet presses has accelerated this decline in offset print demand.



While

market research firms such as

MarketWatch

  predict a 4.5% growth in large format printing, we believe the decline in

social distancing

graphics will

plateau to a new normal as the need for social

distancing

floor graphics declines

.



Digitization w

il

l continue to impact print volumes

.

According to

IBIS World

,

"T

he Printing industry will likely continue to struggle as digital media replaces traditional paper products, and as a result, industry revenue is forecast to decline

."

Of course, w

e should continue to

advocate for

the added value and competitive advantages of prin

t

.



The motivation to invest

in

inkjet printing

presses

will continue to grow.

The motivation is due to several

more significant

changes

,

such as

reductions in cost per page, maintenance, quicker

turnarounds

,

increasing the longevity of presses, reducing

the risk of obsolescence

, and

increasing the use of automation.



The threats

of

outsourcing

in-plant services

are

grow

ing again

.

As

reported in

In-Plant Impressions

and

my

earlier

blogs

, there is a renewed interest in outsourcing both print and mail services.

If you want to prepare to battle the new threat

,

read the top benefits of outsourcing listed in the FSSI whitepaper

,

the

2022 Guide to Print and Mail Outsourcing

.

 



Perhaps the most important trend is the increasing need

for

automation.

On the top of th

e

list

of productivity-en

h

ancing

products

are

W

eb

to

P

rint

, Print MIS, prepress PDF software

,

and color management software.

Exciting new features include

integration

of

VDP software

with mailing software, integrations of

the

W

eb to

P

rint with Print MIS and finishing equipment

,

and

integrations of Print MIS with

Salesforce-type

products.
"
Perhaps the most important trend is the increasing need for automation.
Actions to Reduce the Impact of Printing Industry Trends
The good news is that some of the challenges, such as supply chain issues, staffing, and more productive print technologies, have and will become more accessible and affordable this year. If you haven't done this, consider inkjet presses and hiring, training, and supporting the next generation of Gen Zs. 
The bad news is that you have to measure and alter your operations. If you are experiencing declines in specific production areas, consider reevaluating those staff responsibilities, cross-training staff to work in other areas, and creating a mechanism to identify their availability and move them as needed. Hoping that demand will return is not a strategy.
All evidence points to the fact that streamlining and automating processes may be the most important factor in remaining competitive. If you don't know where to automate, then start with identifying your bottlenecks. They typically have the longest backlog of work. Are they in estimating, order entry, job ticketing, prepress, printing, finishing, or mail?
Once you find the bottleneck, determine the root cause, and create a solution. Then measure again to make sure it helped. Remember the important lesson from The Goal - increase throughput through the bottleneck, and you will increase the overall productivity.
Learn More About Protecting Your Print Operation
Protect your print operation from the "perfect storm" of issues that can result from current print industry trends. Contact Howie Fenton or RSA to explore the best actions for your print center to mitigate the impact of current trends.