Rochester Software Associates
|
August 24, 2023
Rochester, NY, August 24, 2023, Rochester Software Associates (RSA), provider of production print workflow software solutions for in-plant print centers, commercial printers, and PSPs announces the latest version of QDirect™ output management software. Attendees of the PRINTING United Expo being held in Atlanta, GA from October 18-20, 2023, will be the first to see the new release as part of RSA's moving workflow forward showcase in booth B1511.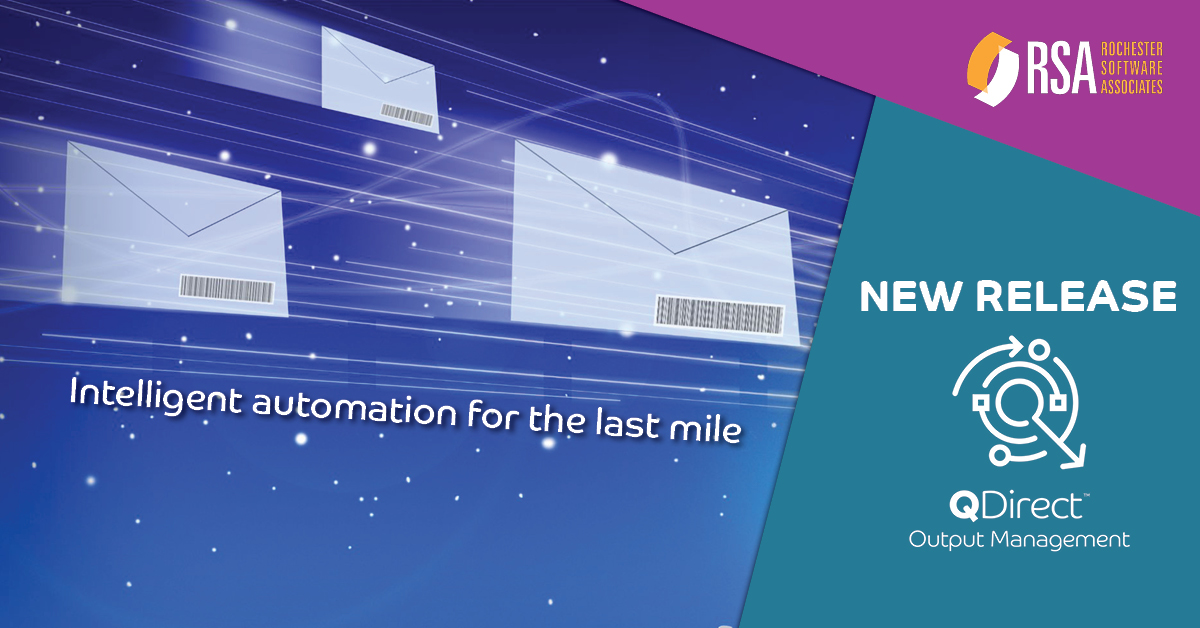 In addition to QDirect output management's abilities to control, automate workflow, route, and manage production print output, the new QDirect software release's barcoding feature helps optimize and automate post-print production for in-plant and commercial printers. Available now, the latest release's benefits include:
No upstream changes to document composition - easy-to-use visual barcoding functionality that lets printers dynamically add standard barcoding formats to existing documents.

 

Improved CCM operations - automate mailing insertion, increase accuracy, and better job tracking. 

 
New efficiencies to the final stages of post-print production - control cutting and folding, and other finishing activities using barcodes to eliminate steps and increase throughput.

 

Equipment Flexibility – liberty

for

easy

late stage

switch

ing

between barcoding schemas used by different hardware without

being constrained

by outdated or proprietary barcodes

added in

the

original document composition

.
Product Manager, Anthony Leccese stated: "The last mile is a critical stage of any print job, and this new release of QDirect offers functionality that promises to make sure it goes smoother than ever. Adding or upgrading barcodes in existing documents allows print centers to fully control the use and reap the benefits of barcode automation in post-production activities." 
Learn more about how QDirect "crushes your automation goals" at PRINTING United Expo. Book a show meeting or demonstration in RSA's booth B1511 by contacting RSA today.
RSA's workflow solutions are available through our partners, including Canon, Kodak, Konica Minolta, Ricoh, Sharp, Toshiba, and Xerox. For more information, visit RSA at https://www.rocsoft.com.
###
About RSA  
Rochester Software Associates (RSA) is the only company in the industry to provide prepress, transform, output management, and Web to Print software solutions to support digital production print workflows. For over 35 years, our customers have used RSA solutions to turn printing into productivity™, automating their print centers and seamlessly converging printing from the data center, in-plant, and distributed enterprise print environments. RSA's proprietary AnyPrint™ technology works across production printers, enabling RSA software to send fully ticketed print jobs to all production print devices from the major print vendors, eliminating the need to manually re-ticket jobs. 
RSA's AnyPrint technology is a core technology embedded in all RSA products. Products like WebCRD™, the leading Web to print software for in-plants, QDirect™ Output Manager, and ReadyPrint™ prepress software maximize employee productivity and corporate profitability, boost operating efficiency, increase print volume without increasing staff, and delight customers with better turnaround times and 24/7 access. 
For more information, visit https://www.rocsoft.com.
©2023 Rochester Software Associates, Inc. QDirect, ReadyPrint, WebCRD, AnyPrint and Turn Printing into Productivity are trademarks of RSA.