Overview
Submit fully ticketed print jobs without re-ticketing to production printers from multiple manufacturers. TicketMe uses RSA's AnyPrint Technology to convert job tickets created by popular make ready and workflow tools such as Xerox FreeFlow Makeready and Kodak SmartBoard from their proprietary formats to formats compatible with production printers from other manufacturers.
Workflow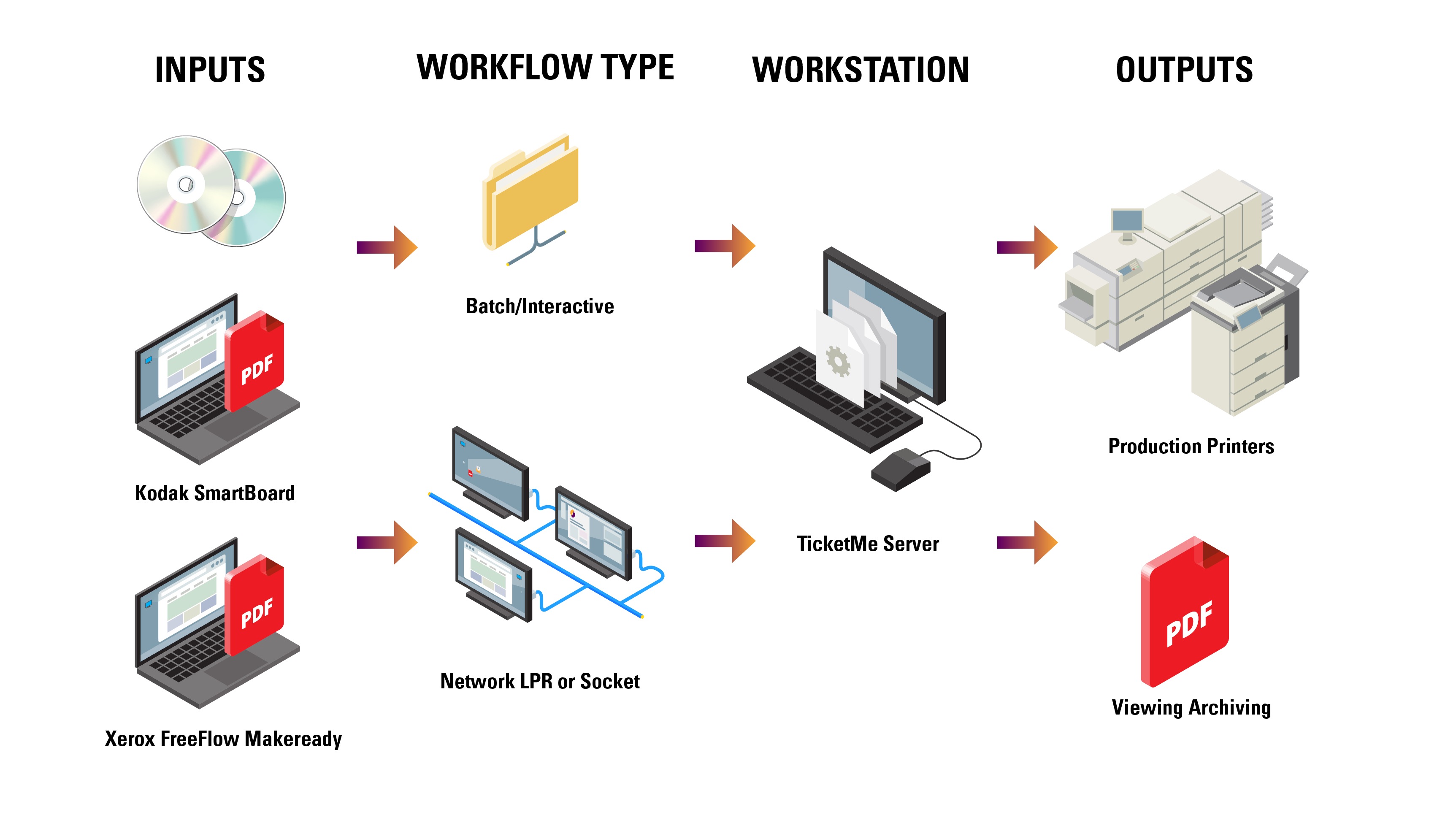 Benefits & Features
Benefits
Transform Job Tickets. Transform business performance. TicketMe gives you greater choice to print anywhere, offering these business benefits:
Drive devices from many manufactures with one application

Seamlessly integrate into multi-device workflow with no additional operator training

Improve flexibility and time to delivery by simplifying workflows

Provide operators with the freedom to print to the "best" printer for the application
Only one company has been leading the industry for more than 30 years with submission, variable data, transformation, prepress and output management solutions that assure customer success. See for yourself why so many enterprises rely on Rochester Software Associates to turn printing into productivity. Contact us today to learn more.
Features
Now, it's possible to submit ticketed print jobs to devices from many manufacturers. TicketMe:
Supports diverse multi-vendor print center hardware and software

Converts all ticketing functions and job attributes

Processes files automatically as pass-thru print or manually using the User Interface

View, store, and print on select production printers

Allows greater choice of production printers
For larger job volumes, ticketing to multiple printers, or creating or modifying job tickets, see RSA's QDirect Pro.
Specifications
Input Format
PDF with KDK tickets

PDF with XPIF/XRX tickets

PS with XPIF/XRX tickets

Kodak SmartBoard™ Direct Print path

Kodak SmartBoard PDFs

Xerox FreeFlow™ Makeready™ Production Print Path
Input Methods
Interactive Batch

Network - LPR

Network - RAW Socket

Hot Folder
Output Methods
Network - LPR

Network - RAW Socket

Hot Folder
Production Devices Supported
Canon / Océ with Fiery, PRISMAsync or internal controllers

Konica Minolta with Fiery or internal controllers

Ricoh with Fiery or internal controllers

Xerox with Fiery, FreeFlow® Print Server or internal controllers
System Requirements
Runs on customer supplied Windows PC

Minimum Requirements:

2 Ghz Processor or better

4 GB of RAM

16 GB available hard disk space

Windows 10 (64-bit)