Webinar
|
August 04, 2021, 1:30 PM - 2:30 PM CT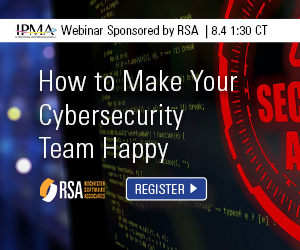 Adding, changing our upgrading systems that use software in your shop can necessitate working with your IT and security departments. You know security is important, but what do you need knowledge of and to consider to be sure you make informed choices that meet internal policies? In this session we'll offer examples, a framework, and a checklist to keep your shop secure and make your security team happy.
This webinar is open to IPMA members and in-plants in North America. Register here.
Stay tuned for the post webinar drawing for a free IPMA membership for any attending in-plant that has not been a member in the last three years. Must attend the live webinar to be eligible for the drawing.